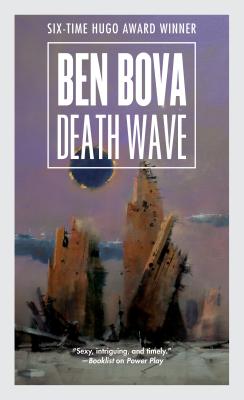 Death Wave (Star Quest Trilogy #1) (Mass Market)
Tor Science Fiction, 9780765379511, 448pp.
Publication Date: August 2, 2016
Other Editions of This Title:
Digital Audiobook (11/16/2015)
Hardcover (11/17/2015)
* Individual store prices may vary.
Description
Six-time Hugo Award winner Ben Bova chronicles the saga of humankind's expansion beyond the solar system in Death Wave
In the precursor to the Star Quest Trilogy, New Earth, Jordan Kell led the first human mission beyond the solar system. They discovered the ruins of an ancient alien civilization. But one alien AI survived, and it revealed to Jordan Kell that an explosion in the black hole at the heart of the Milky Way galaxy has created a wave of deadly radiation, expanding out from the core toward Earth. Unless the human race acts to save itself, all life on Earth will be wiped out.
When Kell and his team return to Earth, many years after their departure, they find that their world has changed almost beyond recognition. Not only has a second wave of greenhouse flooding caused sea levels to rise, but society has been changed by the consequences of the climate shift. Few people want to face Jordan Kell's news. He must convince Earth's new rulers that the human race is in danger of extinction unless it acts to forestall the death wave coming from the galaxy's heart.
The Star Quest Trilogy
#1 Death Wave
#2 Apes and Angels
About the Author
Ben Bova is the author of more than a hundred works of science fact and fiction, including Able One, Leviathans of Jupiter and the Grand Tour novels, including Titan, winner of John W. Campbell Memorial Award for best novel of the year. He received the Lifetime Achievement Award of the Arthur C. Clarke Foundation in 2005, and in 2008 he won the Robert A. Heinlein Award "for his outstanding body of work in the field of literature." He is President Emeritus of the National Space Society and a past president of Science Fiction Writers of America, and a former editor of Analog and former fiction editor of Omni. As an editor, he won science fiction's Hugo Award six times. Dr. Bova's writings have predicted the Space Race of the 1960s, virtual reality, human cloning, the Strategic Defense Initiative (Star Wars), electronic book publishing, and much more. He lives in Florida.