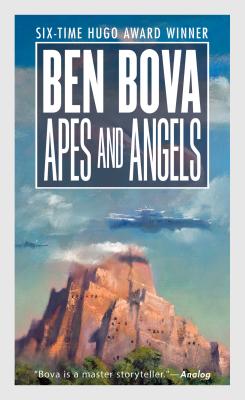 Apes and Angels (Star Quest Trilogy #2) (Mass Market)
Tor Science Fiction, 9780765379535, 448pp.
Publication Date: October 3, 2017
Other Editions of This Title:
Compact Disc (11/22/2016)
MP3 CD (11/22/2016)
Compact Disc (11/22/2016)
* Individual store prices may vary.
Description
Six-time Hugo Award winner Ben Bova chronicles the saga of humankind's expansion beyond the solar system in Apes and Angels, the second book of the Star Quest Trilogy which began with Death Wave.

Humankind headed out to the stars not for conquest, nor exploration, nor even for curiosity. Humans went to the stars in a desperate crusade to save intelligent life wherever they found it.

A wave of death is spreading through the Milky Way galaxy, an expanding sphere of lethal gamma radiation that erupted from the galaxy's core twenty-eight thousand years ago and now is approaching Earth's vicinity at the speed of light. Every world it touched was wiped clean of all life. But it's possible to protect a planet from gamma radiation. Earth is safe.

Now, guided by the ancient intelligent machines called the Predecessors, men and women from Earth seek out those precious, rare worlds that harbor intelligent species, determined to save them from the doom that is hurtling toward them.

The crew of the Odysseus has arrived at Mithra Gamma, the third planet of the star Mithra, to protect the stone-age inhabitants from the Death Wave. But they'll also have to protect themselves.

The Star Quest Trilogy
#1 Death Wave
#2 Apes and Angels
About the Author
Ben Bova is the author of more than a hundred works of science fact and fiction, including Able One, Leviathans of Jupiter and the Grand Tour novels, including Titan, winner of John W. Campbell Memorial Award for best novel of the year. He received the Lifetime Achievement Award of the Arthur C. Clarke Foundation in 2005, and in 2008 he won the Robert A. Heinlein Award "for his outstanding body of work in the field of literature." He is President Emeritus of the National Space Society and a past president of Science Fiction Writers of America, and a former editor of Analog and former fiction editor of Omni. As an editor, he won science fiction's Hugo Award six times. Dr. Bova's writings have predicted the Space Race of the 1960s, virtual reality, human cloning, the Strategic Defense Initiative (Star Wars), electronic book publishing, and much more. He lives in Florida.
Praise For Apes and Angels (Star Quest Trilogy #2)…
"Bova proves himself equal to the task of showing how adversity can temper character in unforeseen ways." —The New York Times

"Bova gets better and better, combining plausible science with increasingly complex fiction." —Daily News (Los Angeles)

"[Bova's] excellence at combining hard science with believable characters and an attention-grabbing plot makes him one of the genre's most accessible and entertaining storytellers." —Library Journal