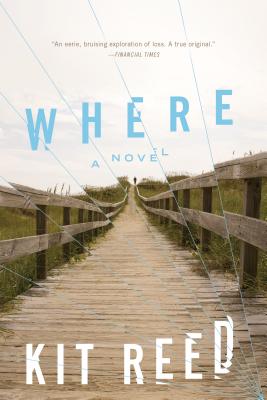 Where
A Novel
Paperback

* Individual store prices may vary.
Other Editions of This Title:
Hardcover (5/12/2015)
Description
Kit Reed's Where is a spooky, unsettling speculative fiction.

In a coastal town on the Outer Carolina Banks, David Ribault and Merrill Poulnot are trying to revive their stale relationship and commit to marriage, and a slick developer claiming to be related to a historic town hero, Rawson Steele, has come to town and is buying up property. Steele makes a romantic advance on Merrill and an unusual 5 a.m appointment outside of town with David. But Steele is a no-show, and at the time of the appointment everyone in the town disappears, removed entirely from our space and time to a featureless isolated village—including Merrill and her young son. David searches desperately but all seems lost for Steele is in the other village with Merrill.
Praise For Where: A Novel…
"When everyone disappears from Davy's small coastal town of Kraventown, S.C., he's sure it's the fault of a newcomer, slick Northerner Rawson Steele. The truth is harder to determine in this multiperspective mystery. Reed (Son of Destruction) plays off various unexplained disappearances from Jamestown to Malaysia Airlines Flight 370, showing the terror of both those who vanished and those who wonder where they went. Davy's girlfriend, Merrill, narrates from the side of the disappeared, and the story is mostly driven by her relationships with the other characters. The complexities of her pre-disappearance life (issues with Davy; Rawson's own strange advances; dealing with her abusive, power-hungry father) still haunt her even as she's trapped in a sterile, stupor-inducing new world. There's a powerful sense of building terror and hopelessness, and the portrayal of Merrill's father works much like a smoldering volcano. The conclusion is extremely abrupt and ambiguous, but the brilliant writing and characterization make even the faltering ending worth getting to." —Publishers Weekly

"The set-up is very Twilight Zone but Reed turns it into an eerie, bruising exploration of loss. A true original, she skilfully depicts how people under pressure succumb to their worst impulses." —James Lovegrove, The Financial Times

"When the 100 inhabitants of Kraven Island find themselves "removed" to a facsimile of their settlement in the desert, down-home southern American etiquette turns to violence as they confront the inexplicable. Reed is particularly skilled at getting inside the heads of her (mainly) likable cast and showing how they have been fractured by past events. In condensed, vernacular prose, she uses the disappearance as a metaphor for coming to terms with guilt, grief and loss." —Eric Brown, The Guardian

"Reed is interested in the curtain separating the natural from the supernatural, the known from the unknowable. That curtain may twitch, but can't be raised. The missing belong to another country, a black hole out of which no information can escape." —The Toronto Star: Science Fiction, the Latest Must-Reads

"Kit Reed, author of "The Story Until Now," "The Baby Merchant" and a host of other strange, unsettling and singular novels and stories, delivers a new metaphysical thriller set on the Outer Carolina Banks... The town in jeopardy is a well-used trope of science fiction and fantasy, with Stephen King's massive "Under the Dome" a prime example of the form. Reed attempts something in a different key, working within a tight circumference of well-defined characters and telling incident. The effect is chillier and more claustrophobic, and perhaps too elliptical for some. But if "Where" doesn't answer every question it raises, it presents a riveting examination of what it means to be lost and searching for a second chance. --Michael Berry" —San Francisco Chronicle SFGate

"Reed's newest release is a subtly chilling, disconcerting novel that reads as much like a mythical tragedy as it does speculative fiction. The bizarrer circumstances that unfold along the haunting Outer Carolina Banks are told through numerous individual voices, allowing readers to fully investigate this bizarre new world and feel the visceral fear, confusion and wonderment of each individual journey; from its modest, intimate beginnings, this story grows in ambition and quickens in pace, evolving with narrative grace and an ominous calm into an achingly poignant tale about love and loss that won't easily be forgotten." —RT Top Picks for May
Tor Books, 9780765379832, 240pp.
Publication Date: April 19, 2016
About the Author
Kit Reed (1932-2017) is the author of the Alex Award-winning Thinner Than Thou and many other novels, including The Night Children, her first young adult work. Reed has been nominated for the World Fantasy Award and has been a James W. Tiptree Award finalist. Kit Reed lived in Middletown, CT, and was Resident Writer at Wesleyan University.