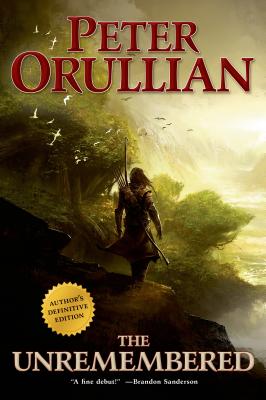 The Unremembered
Author's Definitive Edition (Vault of Heaven #1)
Paperback

* Individual store prices may vary.
Other Editions of This Title:
Digital Audiobook (4/13/2015)
Description
Peter Orullian's epic fantasy debut The Unremembered has been critically acclaimed, earning starred reviews and glowing praise. But now it gets even better. In anticipation of the second volume in Orullian's epic series, and for one of the few times in our publishing history, we at Tor are choosing to relaunch a title with an author's definitive edition.

In addition to stunning updates to the original text, we're also including an exclusive short story set in the world of Vault of Heaven as well as a sneak preview of the sequel, Trial of Intentions, and a glossary to the universe.

The gods who created this world have abandoned it. In their mercy however, they sealed the rogue god-and the monstrous creatures he created to plague mortal kind-in the vast and inhospitable wasteland of the Bourne. The magical Veil that protected humankind for millennia has become weak and creatures of nightmare have now come through. Those who stand against evil know that only drastic measures will prevent a devastating invasion.

Tahn Junell is a hunter who's unaware of the dark forces that imperil his world, in much the same way his youth is lost to memory. But an imperious man who wears the sigil of the feared Order of Sheason and a beautiful woman of the legendary Far have shared the danger with Tahn. They've asked him, his sister, and his friends to embark with them on a journey that will change their lives . . . and the world . . . forever. And in the process, he'll remember . . .
Praise For The Unremembered: Author's Definitive Edition (Vault of Heaven #1)…
"A sprawling complex tale of magic and destiny that won't disappoint its readers. This auspicious beginning for author Peter Orullian will have you looking forward to more." —Terry Brooks, New York Times bestselling author

"This is one huge, compelling, hard-hitting story. A major fantasy adventure." —Piers Anthony

"The Unremembered is great fantasy. It grips you and shows you true friendship, strange places, and heroes growing to confront world-shaking evil. Magnificent! I want more!" —Ed Greenwood, bestselling author of The Band of Four

"A vast canvas filled with thought-provoking ideas on the questions of good and evil that engage us all." —Anne Perry, New York Times bestselling author

"In the Hollows, an Order of Sheason wizard and a beautiful elven Far order two orphans (Tahn, and his sister Wendra) and their friend (Sutter) to undergo a dangerous quest. Tahn is the key, but his sibling and his buddy are needed to protect his back if he is to succeed on the dangerous impossible mission. None of the trio understands why they were chosen as they have no skills or experience and have never been outside the Hollows. Although each doubts their worthiness they set forth on their mission.

They have hardly begun when a malevolent god sends his evil horde to kill them. Surprising themselves, Tahn, Wendra and Sutter survive assault after assault from the odious minion. At the same time an invasion adds to the chaos.

A fresh, exciting epic fantasy debut, the first in the Vault of Heaven six-book series set on a fascinating world where evil creatures long kept at bay have suddenly begun to wreak havoc; a young man must contend with the godling that commands the monsters." —Publishers Weekly

"The riveting and captivating story of The Unremembered takes readers on a journey that will become part of their souls. But they should hold on to their seats for a ride featuring thrills, fear and exhilaration." —Deseret News

"This is an entertaining coming of age quest fantasy starring a strong young trio. Although the story line is exciting, it comes across somewhat as standard sub-genre fare. However, what makes the plot brisk and fun is the changing relationships between the heroic threesome. Fans who relish an enjoyable epic adventure will want to join Tahn and his cohorts as they fight overwhelming evil in the first Vault of Heaven thriller." —The Midwest Book Review
Tor Books, 9780765379870, 480pp.
Publication Date: April 7, 2015
About the Author
Peter Orullian works in marketing at Xbox, including leading the Music and Entertainment marketing strategy for Xbox LIVE, and has toured as a featured vocalist internationally at major music festivals. He has published several short stories. He is the author of The Unremembered and Trial of Intentions. He lives in Seattle.
or
Not Currently Available for Direct Purchase