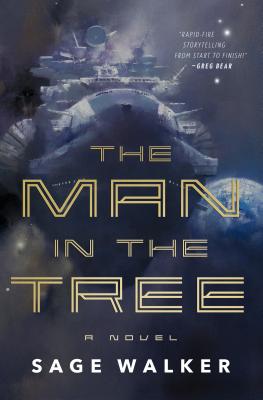 The Man in the Tree (Hardcover)
A Novel
Tor Books, 9780765379924, 384pp.
Publication Date: September 12, 2017
* Individual store prices may vary.
Description
With The Man in the Tree, Locus Award-winning author Sage Walker has given us a thrilling hard science fiction mystery that explores the intersection of law, justice, and human nature.
Humanity's last hope of survival lies in space…but will we even get there?
Helt Borresen is an Incident Analyst. What that means is that aboard the seed ship Kybele, he is the closest thing that the organization has to a security officer. But he doesn't think that it'll be a big part of his job, as all the candidates have been carefully screened.
Why the need for a seed ship? Because our planet is toast and the colonists that leave our world are the best shot that we have for our species to continue.
Everything is set…and then someone is found hanging dead just weeks before the launch. Fear and paranoia spread as the death begins to look more and more like a murder. The authorities want the case settled quickly and quietly so as not to cause panic.
And Helt is the one to prevent a murderer from sabotaging the entire mission.
"Rapid-fire storytelling from start to finish!"—Greg Bear
About the Author
SAGE WALKER is the author of Whiteout, which garnered critical acclaim and won the Locus Award for Best First Novel. She was born in Oklahoma and grew up steeped in simile and sultry south wind from the Gulf. She entered college as a music major and exited with a B.S. in Zoology and eventually a M.D. A long time Taos resident, her company established the first full-time Emergency Physician coverage in hospitals in Taos, Los Alamos, and Santa Fe. She stopped practicing in 1987 and describes herself as a burned-out ER doc who enjoys wilderness, solitude, good company...and telling stories.
Praise For The Man in the Tree: A Novel…
Praise for The Man in the Tree
"Sage Walker writes some of our genre's most beautiful prose, and somehow manages to wrap it around painstakingly researched science fiction with compelling characters and breathless plots. And this book might be her best work yet."—James SA Corey
"Walker is fashioning a wondrous world, and breathing life into that world's inhabitants that is unmatched in science fiction."—Melinda Snodgrass
"A story of an intelligent, thoughtful man threading that needle's eye where law, justice, and the human heart converge, one careful step at a time."—Kathleen Ann Goonan
"In this rich, intense novel of ideas, Locus Award–winner Walker (Whiteout) meditates upon murder, law, and justice inside a generation spaceship in 2209...Fans of hard science fiction and philosophical mystery will enjoy this hopeful view of humankind's future."—Publishers Weekly, starred review
Praise for Whiteout
"Whiteout brilliantly demonstrates that humankind can invest technology with the entire spectrum of our energy, grief, wisdom, sensuality, wonder..."—Locus
"A richly detailed novel."—Asimov's Science Fiction Magazine
or
Not Currently Available for Direct Purchase