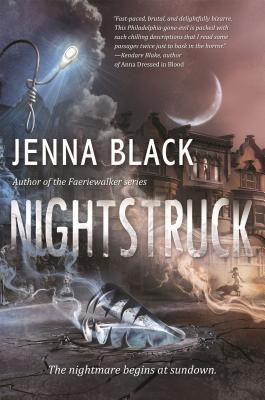 Nightstruck
Hardcover

* Individual store prices may vary.
Other Editions of This Title:
Paperback (3/21/2017)
Description
Nightstruck: the start of a spooky yet romantic dark paranormal horror series from Glimmerglass author Jenna Black.
The night is the enemy, and the city of Philadelphia is its deadliest weapon.
Becket is an ordinary teenage girl, wrestling with the upheaval of her parents' divorce. A studious high school senior, her biggest problems to date have been choosing which colleges to apply to, living up to her parents' ambitious expectations for her, and fighting her secret crush on her best friend's boyfriend. But that all changes on the night she tries to save an innocent life and everything goes horribly wrong.
Unbeknownst to her, Becket has been tricked into opening a door between worlds, allowing a dark magic into the mortal world. As the magic trickles in, the city begins to change at night. Strange creatures roam the streets, and inanimate objects come to life, all of them bloodthirsty and terrifying. The city returns to normal when the sun rises in the morning, and no one can capture the strange changes--such as potholes turning into toothy mouths and wires turning into strangling vines--on film, which prompts the government to declare that the city has been infected with some kind of madness and must be quarantined. Meanwhile, venturing out of one's house at night has become a dangerous proposition, and the moment the sun sets, most of the citizens of the city shut themselves up in their houses and stay there even in the case of dire emergencies.
The magic is openly hostile to most mortals, but there are some individuals it seems to covet, trying to lure them out into the night. While Becket struggles to protect her friends and family from predatory creatures of the night, she is constantly tempted to shrug off all her responsibilities and join them. Joining the night world means being free of not just responsibility, but conscience, and it means no longer caring about the fate of others.
Praise For Nightstruck…
"A creepy series with an imaginative and unsettling premise." - Publishers Weekly
"If readers want something a bit different from typical YA fare, I'd recommend reading Nightstruck." - RT Book Reviews
Tor Teen, 9780765380043, 304pp.
Publication Date: April 5, 2016
About the Author
Author Jenna Black writes paranormal romance books and young adult novels, including Shadowspell and Watchers in the Night, which was nominated for the 2006 Paranormal Excellence in Romantic Literature (PEARL) award. She's your typical writer: an experience junkie. Once upon a time, she dreamed she would be the next Jane Goodall, camping in the bush and making fabulous discoveries about primate behavior. She went to Duke University to study physical anthropology. Then, during her senior year, she made a shocking discovery: primates spend something like 80% of their time doing such exciting things as sleeping and eating. Narrowly escaping the boring life of a primatologist, she moved on to such varied pastimes as grooming dogs and writing technical documentation. Among her other experiences: ballroom dancing, traveling to all seven continents--yes, even Antarctica--becoming a Life Master in Bridge, and singing in a barbershop chorus.
or
Not Currently Available for Direct Purchase