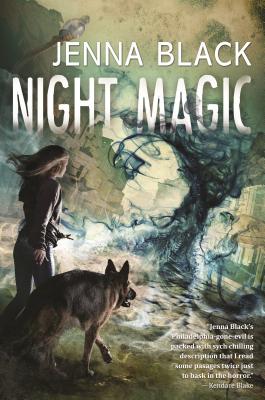 Night Magic (Nightstruck #2)
Paperback

* Individual store prices may vary.
Description
Jenna Black returns to the quarantined city of Philadelphia, where an unsuspecting seventeen-year-old has unknowingly unleashed a dark power that transforms the city into a monstrous hellscape in Night Magic.

Philadelphia is locked in the grip of an evil magic that transforms its streets into a nightmare landscape the minute the sun sets each night. While most of the city hunkers down and hopes to survive the long winter nights, Becket Walker is roaming the darkened streets having the time of her life.

Once, the guilt of having inadvertently let the night magic into the city—and of having killed her onetime best friend—had threatened to destroy her. But now she's been Nightstruck, and all her grief and guilt and terror have been swept away—along with her conscience. So what if she's lost her friends, her family, and her home? And so what if her hot new boyfriend is super-controlling and downright malevolent?

Mesmerized by the power and freedom of not having to care about anyone but herself, Becket is sinking ever deeper into the night magic's grasp. But those who love her refuse to give up on her—even if she's given up on them. If they can't find a way to help Becket break the night magic's hold, the entire city might soon find itself shrouded in perpetual night. But the last thing Becket wants is to be "rescued" from her brand new life, and she will fight tooth and claw to stay exactly where she is.
Tor Teen, 9780765380074, 288pp.
Publication Date: April 17, 2018
About the Author
Author Jenna Black writes paranormal romance books and young adult novels, including Shadowspell and Watchers in the Night, which was nominated for the 2006 Paranormal Excellence in Romantic Literature (PEARL) award. She's your typical writer: an experience junkie. Once upon a time, she dreamed she would be the next Jane Goodall, camping in the bush and making fabulous discoveries about primate behavior. She went to Duke University to study physical anthropology. Then, during her senior year, she made a shocking discovery: primates spend something like 80% of their time doing such exciting things as sleeping and eating. Narrowly escaping the boring life of a primatologist, she moved on to such varied pastimes as grooming dogs and writing technical documentation. Among her other experiences: ballroom dancing, traveling to all seven continents--yes, even Antarctica--becoming a Life Master in Bridge, and singing in a barbershop chorus.
or
Not Currently Available for Direct Purchase