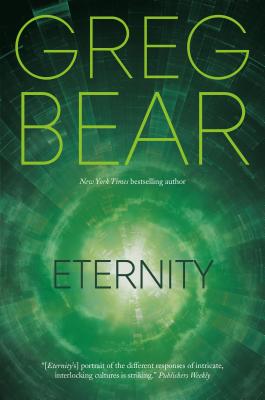 Eternity (Eon #2)
Paperback

* Individual store prices may vary.
Other Editions of This Title:
Paperback (5/20/2014)
Mass Market Paperback (12/1/1994)
MP3 CD (5/3/2016)
Mass Market Paperbound (10/2/2007)
Description
Multiple Nebula and Hugo Award winner Greg Bear returns to the Earth of his acclaimed novel Eon in Eternity.

The crew of the asteroid-starship Thistledown has thwarted an attack by the Jarts by severing their link to the Way, an endless corridor that spans universes. The asteroid settled into orbit around Earth and the tunnel snaked away, forming a contained universe of its own.

Forty years later, on Gaia, Rhita Vaskayza recklessly pursues her legacy, seeking an Earth once again threatened by forces from within and without. For physicist Konrad Korzenowski, murdered for creating The Way, and resurrected, is compelled by a faction determined to see it opened once more. And humankind will discover just how entirely they have underestimated their ancient adversaries.
Praise For Eternity (Eon #2)…
"Hard science and human interest intersect ingeniously in the prequel to Bea's Eon and Eternity....This is a stunning SF novel that extrapolates a scientifically complex future from the basic stuff of human nature." —Publishers Weekly, starred review, on Legacy

"Whether he's tinkering with human genetic material or prying apart planets, Bear goes about the task with intelligence and a powerful imagination." —Locus on Greg Bear

"A cohesive and original vision of the future. Bear has combined a lively set of characters, colorful writing and gripping psychological-technological fabrications into a very seductive read." —People Magazine on Queen of Angels

"Bear takes a profound and unusual approach to hard SF." —Los Angeles Times on Greg Bear

"Bear is one of our very best." —New York Daily News on Greg Bear

"If anyone is the complete master of the grand scale SF novel, it's Bear." —Booklist on Greg Bear

"Bear, who's won two Hugos and four Nebulas, should rack up nominations if not wins for this one as well." —Publishers Weekly, starred review, on Slant
Tor Books, 9780765380470, 400pp.
Publication Date: October 27, 2015
About the Author
Greg Bear is the author of more than thirty books of science fiction and fantasy, including The Forge of God, Eon, Slant, and the Nebula Award winning novel Moving Mars.  He has also written gaming tie-ins such as Halo: Cryptum, and Hull Zero Three. Awarded two Hugos and five Nebulas for his fiction, he is one of only two authors to win a Nebula in every category. He has been called the "Best working writer of hard science fiction" by The Ultimate Encyclopedia of Science Fiction. His stories have been collected into an omnibus volume by Tor Books, The Best of Greg Bear. Bear has served on political and scientific action committees and has advised Microsoft Corporation, the U.S. Army, the CIA, Sandia National Laboratories, Callison Architecture, Inc., and other groups and agencies. He is married to Astrid Anderson Bear and is the father of Erik and Alexandra.