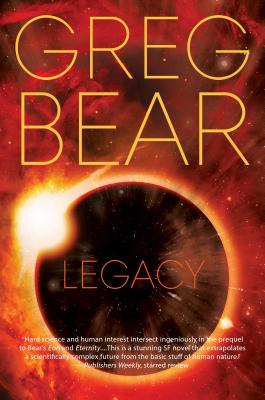 Legacy
A Novel (Eon #3)
Paperback

* Individual store prices may vary.
Other Editions of This Title:
MP3 CD (5/3/2016)
Paperback (6/15/1996)
Description
Greg Bear's beloved science fiction classic, Legacy, the third book in his The Way series, is now available for the first time in trade paperback.

The Way is a tunnel through space and time. The entrance is through the hollow asteroid Thistledown and the space station Axis City that sits at the asteroid's center. From there the Flawships ride the center of the Way, traveling to other worlds and times.

Now the rulers of Axis City have discovered that a huge group of colonists has secretly entered one of the interdicted worlds along the Way. In some ways Lamarkia is very Earth-like-but its biology is extraordinary. A single genetic entity can take many forms, and span a continent. There are only a few of these "ecos" on Lamarkia, and the effect of human interaction on them is unknown.

Olmy Ap Sennon has been sent to secretly assess the extent of the damage. But he will find far more than an intriguing alien biology-for on their new world the secret colonists have returned to the old ways of human history: war, famine, and ecological disaster. On this mission, Olmy will learn about the basics: love, responsibility, and even failure...
Praise For Legacy: A Novel (Eon #3)…
"Hard science and human interest intersect ingeniously in the prequel to Bea's Eon and Eternity....This is a stunning SF novel that extrapolates a scientifically complex future from the basic stuff of human nature." —Publishers Weekly, starred review, on Legacy

"Whether he's tinkering with human genetic material or prying apart planets, Bear goes about the task with intelligence and a powerful imagination." —Locus on Greg Bear

"A cohesive and original vision of the future. Bear has combined a lively set of characters, colorful writing and gripping psychological-technological fabrications into a very seductive read." —People Magazine on Queen of Angels

"Bear takes a profound and unusual approach to hard SF." —Los Angeles Times on Greg Bear

"Bear is one of our very best." —New York Daily News on Greg Bear

"If anyone is the complete master of the grand scale SF novel, it's Bear." —Booklist on Greg Bear

"Bear, who's won two Hugos and four Nebulas, should rack up nominations if not wins for this one as well." —Publishers Weekly, starred review, on Slant
Tor Books, 9780765380500, 400pp.
Publication Date: November 10, 2015
About the Author
Greg Bear is the author of more than thirty books of science fiction and fantasy, including The Forge of God, Eon, Slant, and the Nebula Award winning novel Moving Mars.  He has also written gaming tie-ins such as Halo: Cryptum, and Hull Zero Three. Awarded two Hugos and five Nebulas for his fiction, he is one of only two authors to win a Nebula in every category. He has been called the "Best working writer of hard science fiction" by The Ultimate Encyclopedia of Science Fiction. His stories have been collected into an omnibus volume by Tor Books, The Best of Greg Bear. Bear has served on political and scientific action committees and has advised Microsoft Corporation, the U.S. Army, the CIA, Sandia National Laboratories, Callison Architecture, Inc., and other groups and agencies. He is married to Astrid Anderson Bear and is the father of Erik and Alexandra.