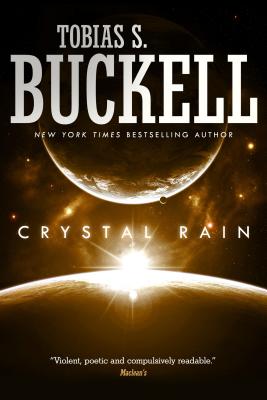 Crystal Rain (Paperback)
Tor Books, 9780765380630, 352pp.
Publication Date: January 20, 2015
Other Editions of This Title:
Paperback (12/9/2014)
Mass Market Paperback (5/1/2007)
Hardcover (2/7/2006)
* Individual store prices may vary.
Description
A thrilling science fiction tale—now featuring brand-new cover art

Legends say that the forefathers of Nanagada fled a far-off star to their new home. They say that the sky once hummed with metal flying machines and palatial floating cities. But then the Azteca came. Created and driven by cruel, inhuman gods, they swarmed out of the sky in search of sacrificial blood, and worse. To defeat them and their gods, the forefathers burned the sky. The cities and machines fell to the ground, useless.
In the centuries since, Azteca have kept to their side of the mountains in an uneasy truce. But now it has been broken. Only one man can stop their bloodthirsty march: John deBrun. His family scattered, John holds the key to an ancient secret deep in memories lost just before he was dragged unconscious from the sea years ago….
If he can stay alive long enough to uncover them, he might be able to stop the destruction of Nanagada.
Crystal Rain is the first novel by one of science fiction's newest and most promising talents. Now featuring brand new cover art.
About the Author
Tobias S. Buckell is the author of several novels including Halo: The Cole Protocol, Arctic Rising, Sly Mongoose, Ragamuffin, and Crystal Rain. His books have been finalists for the Nebula Award, the Prometheus Award, and the Romantic Times Award for Best Science Fiction Novel. He hails from the Caribbean, where as a child he lived on boats in Grenada and the British and U.S. Virgin Islands. When he was a teenager, his family moved to Ohio after a series of hurricanes destroyed the boat they were living on, and he attended Bluffton University in Bluffton, Ohio, where he still lives today. Buckell fell in love with science fiction at a young age, reading Arthur C. Clarke and Isaac Asimov novels when he was seven years old. He is now a full-time author and freelancer.
Praise For Crystal Rain…
"Buckell's debut captures the flavor of Afro-Caribbean culture in the lilting dialog of his characters and in their customs. An original tale with distinctive characters and a fresh approach to worldbuilding, this SF quest belongs in most libraries." —Library Journal, starred review
"Crystal Rain conjures a vividly imagined world, spiced with intrigue and adventure that unfolds at a breakneck pace." —Booklist
"A cracking adventure yarn from an exciting new writer." —Cory Doctorow, author of Homeland
"Even non-sci-fi readers will be bowled over.... Violent, poetic, and compulsively readable." —Maclean's (Canada)
or
Not Currently Available for Direct Purchase