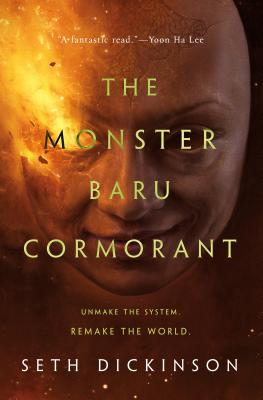 The Monster Baru Cormorant (The Masquerade #2) (Hardcover)
Tor Books, 9780765380746, 464pp.
Publication Date: October 30, 2018
Other Editions of This Title:
Digital Audiobook (10/29/2018)
Paperback (9/24/2019)
* Individual store prices may vary.
Description
A breathtaking geopolitical epic fantasy, The Monster Baru Cormorant is the sequel to Seth Dickinson's "fascinating tale" (The Washington Post), The Traitor Baru Cormorant.
Her world was shattered by the Empire of Masks.
For the power to shatter the Masquerade,
She betrayed everyone she loved.
The traitor Baru Cormorant is now the cryptarch Agonist—a secret lord of the empire she's vowed to destroy.
Hunted by a mutinous admiral, haunted by the wound which has split her mind in two, Baru leads her dearest foes on an expedition for the secret of immortality. It's her chance to trigger a war that will consume the Masquerade.
But Baru's heart is broken, and she fears she can no longer tell justice from revenge...or her own desires from the will of the man who remade her.
About the Author
SETH DICKINSON's short fiction has appeared in Analog, Asimov's, Clarkesworld, Lightspeed, Strange Horizons,Beneath Ceaseless Skies, among others. He is an instructor at the Alpha Workshop for Young Writers, winner of the 2011 Dell Magazines Award, and a lapsed student of social neuroscience. He lives in Brooklyn, New York. The Traitor Baru Cormorant is his first novel.
Praise For The Monster Baru Cormorant (The Masquerade #2)…
Praise for The Traitor Baru Cormorant
"A fascinating tale of political intrigue and national unrest." – The Washington Post
"Literally breathtaking….Baru Cormorant as a character is magnificent. I found it impossible not to root for her even amid horrors of her making, to grieve with her and for her at various points, to clench my fists in her defense and in desperate need for her to stay whole. There is so much to admire and so much to mourn throughout the building tragedy of this novel….A crucial, necessary book — a book that looks unflinchingly into the self-replicating virus of empire, asks the hardest questions, and dares to answer them." – NPR.org
"A breathtaking contender with George R. R. Martin's Game of Thrones. Perfect for those who thrive on fantasy with Machiavellian overtones, this labyrinthine story starts off a wee bit slow but soon enough sets you on the path toward a high-stakes clash you're almost afraid to reach." – Omnivoracious
"Dickinson's dense, chewy, deftly orchestrated narrative cleverly exploits fiat money and debt as tools of statecraft…. A highly impressive debut that engages intellectually." – Kirkus Reviews
"This is an accomplished debut, with a heroine whose motives are murky, seemingly even to herself. The twists and turns our unreliable narrator takes as she pushes the Aurdwynn nobles to rebel reveal her goals yet also expose her loneliness. We've only seen a fraction of the world of the Masquerade and a glimpse of Baru's plans, setting the stage for a compelling series." —Library Journal, starred review
"Dickinson's debut, the start of a trilogy set in an impressively well-crafted fantasy world, is assured and impressive….Readers will share every one of Baru's strong, suppressed emotions. Dickinson's worldbuilding is ambitious and his language deviously subtle; both are seductive in their complexity. He combines social engineering, economic trickery, and coldhearted pseudoscientific theories to weave a compelling, utterly surprising narrative that keeps readers guessing until the end." –Publishers Weekly, starred review
"Glorious and soul-shaking…. Damn-near perfection." —The Booksmugglers
"Complex and sneakily smart…will have you biting your nails the whole way through." —Buzzfeed