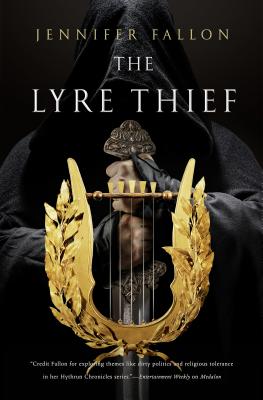 The Lyre Thief (The Hythrun Chronicles #7) (Hardcover)
Tor Books, 9780765380791, 448pp.
Publication Date: March 8, 2016
* Individual store prices may vary.
Description
Ten years have passed since the events of the Demon Child books that left the god Xaphista dead, the nation Karien without a religion or king and the matriarchal country of Medalon ruled by men. But it is in the kingdoms of the south that things really heat up. When Princess Rakaia of Fardohnya discovers she is not of royal birth, she agrees to marry a much older Hythrun noble in a chance to escape her 'father's wrath. Rakaia takes nothing but her jewels and her base-born half-sister, Charisee, who has been her slave, handmaiden and best friend since she was six years old. And who can pass as Rakaia's double.
These two sisters embark on a Shakespearean tale of switched identities, complicated love triangles...and meddlesome gods. Rakaia is rescued on the road by none other than the Demon Child, R'shiel, still searching for a way to force Death to release her near immortal Brak. Charisee tries to act like the princess she was never meant to be and manages to draw the attention of the God of Liars who applauds her deception and only wants to help.
Then there is the little matter of the God of Music's magical totem that has been stolen...and how this theft may undo the universe.
Powerful magics, byzantine politics, sweeping adventure, and a couple of juicy love stories thrown in for good measure, The Lyre Thief is classic Fallon that is sure to appeal to her fans.
About the Author
Jennifer Fallon is the author of The Hythrun Chronicles, and one of Australia's bestselling fantasy authors. She lives in New Zealand.
Praise For The Lyre Thief (The Hythrun Chronicles #7)…
"Fallon skillfully cranks up the tension, building a taut web of interlocking schemes, plots, and shady politics. With its lively cast of characters, conflicting motivations, and a bit of romance, Fallon's latest Hythrun novel will entertain new readers and returning fans." —Publishers Weekly
or
Not Currently Available for Direct Purchase