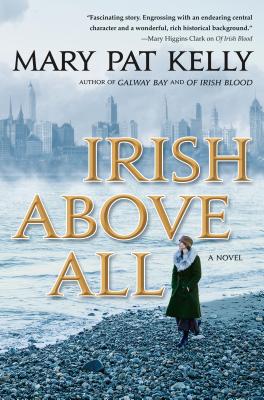 Irish Above All
A Novel (Of Irish Blood #3)
Hardcover

* Individual store prices may vary.
Other Editions of This Title:
Paperback (2/25/2020)
Description
Mary Pat Kelly draws upon family heritage to continue the story of Nora Kelly--begun in Of Irish Blood--with a striking novel of historical fiction in Irish Above All.
After ten years in Paris, where she learned photography and became part of the movement that invented modern art, Chicago-born, Irish-American Nora Kelly is at last returning home. Her skill as a photographer will help her cousin Ed Kelly in his rise to Mayor of Chicago. But when she captures the moment an assassin's bullet narrowly misses President-elect Franklin Roosevelt and strikes Anton Cermak in February 1933, she enters a world of international intrigue and danger.
Now, she must balance family obligations against her encounters with larger-than-life historical characters, such as Joseph Kennedy, Big Bill Thompson, Al Capone, Mussolini, and the circle of women who surround F.D.R. Nora moves through the Roaring Twenties, the Great Depression, and World War II, but it's her unexpected trip to Ireland that transforms her life.
Praise For Irish Above All: A Novel (Of Irish Blood #3)…
"Prepare to be transported through 1920s-40s Chicago and Ireland for an epic story of love, loss and the strength of one incredible Irish woman."
—Martha Hall Kelly, author of New York Times bestseller Lilac Girls
"Mary Pat Kelly's masterful saga of Irish American life and history comes to a thrilling conclusion with Irish Above All as the Kellys and the Kennedys achieve political power with very different consequences. A great read."
—Patricia Harty, cofounder and editor-in-chief of Irish America Magazine
"Irish Above All combines the myths and magic of Ireland with the grit and energy of Irish-American Chicago in the first half of the 20th century. I am delighted that main character Nora Kelly travels with Eleanor Roosevelt to visit the US Marines stationed in my beloved Derry during WWII—a little known story—and that Nora has a spiritual awakening in the Grianan of Aileach, a sacred space for me since childhood."
—Roma Downey, New York Times bestselling author of Box of Butterflies, acclaimed actress, producer and president of LightWorkers Media at MGM Television
"Ahead of her times, Nora Kelly is a fascinating woman of vision and an inspiration to today's generation of women photographers."
—Barbara Kasten, internationally recognized artist known for her abstract photography
"Nobody knows the Irish like Mary Pat Kelly. And nobody writing today knows better how to breath life into Irish-Americans, with all their dreams, hopes, and aspirations. Fictional characters and historical figures emerge full blown and fiery in this big, sprawling, read-it-all-weekend kind of epic. You'll love it."
—William Martin, New York Times bestselling author of Bound for Gold
"Mary Pat Kelly vividly captures the tumult of Chicago machine politics, with its hard-fought ethnic and racial struggles. A tale told by a feisty spirited woman, Irish Above All takes us from the Jazz Age through World War II. It is history with a timely contemporary message. For as one Irishman puts it: 'All of us are descended from someone who got out against the odds.'"
—Margo Jefferson, winner of the National Book Critics Circle Award for Negroland
Forge Books, 9780765380883, 512pp.
Publication Date: February 5, 2019
About the Author
Mary Pat Kelly is the author of Of Irish Blood, as well as the bestselling novel Galway Bay and Special Intentions. She has worked as a screenwriter for Paramount and Columbia Pictures, and as an associate producer with Good Morning America and Saturday Night Live. She also wrote and directed the dramatic feature film Proud, starring Ossie Davis and Stephen Rea, and three award-winning PBS documentaries: To Live for Ireland, Home Away from Home: The Yanks in Ireland, and Proudly We Served: The Men of the U.S.S. Mason, the last two based on her books. Kelly's other books include two about the film director Martin Scorsese and Good to Go: The Rescue of Scott O'Grady from Bosnia. A graduate of Saint Mary-of-the-Woods College, she received her PhD. in English from the CUNY Graduate Center, New York. Born and raised in Chicago, she lives on New York's Upper West Side with her husband app developer Martin Sheerin from County Tyrone, Ireland.
or
Not Currently Available for Direct Purchase