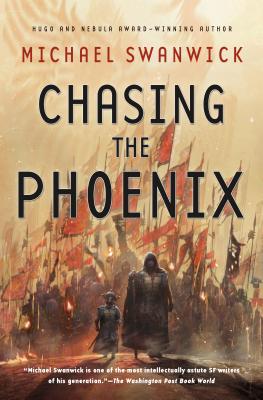 Chasing the Phoenix (Paperback)
A Science Fiction Novel
Tor Books, 9780765380913, 320pp.
Publication Date: August 30, 2016
Other Editions of This Title:
Hardcover (8/11/2015)
* Individual store prices may vary.
Description
Chasing the Phoenix: a science fiction masterpiece from a five-time Hugo Award winner Michael Swanwick!
In the distant future, Surplus arrives in China dressed as a Mongolian shaman, leading a yak which carries the corpse of his friend, Darger. The old high-tech world has long since collapsed, and the artificial intelligences that ran it are outlawed and destroyed. Or so it seems.
Darger and Surplus, a human and a genetically engineered dog with human intelligence who walks upright, are a pair of con men and the heroes of a series of prior Swanwick stories. They travel to what was once China and invent a scam to become rich and powerful. Pretending to have limited super-powers, they aid an ambitious local warlord who dreams of conquest and once again reuniting China under one ruler. And, against all odds, it begins to work, but it seems as if there are other forces at work behind the scenes. Chasing the Phoenix is a sharp, slick, witty science fiction adventure that is hugely entertaining from Michael Swanwick, one of the best SF writers alive.
About the Author
Michael Swanwick is the winner of five Hugo Awards for his short fiction. His several novels include the Nebula-winning Stations of the Tide, the time-travel novel Bones of the Earth, and the "industrial fantasy" novels The Iron Dragon's Daughter and The Dragons of Babel. He lives in Philadelphia.
Praise For Chasing the Phoenix: A Science Fiction Novel…
"Veteran fantasy readers will recognize Swanwick's duo as descendants of, and a tribute to, Fritz Leiber's beloved old sword and sorcery stories of an equally larcenous duo named Fafhrd and the Gray Mouser, but Swanwick's snappy dialogue and satirical barbs are entirely his own." —Chicago Tribune
"The intellectual puzzles keep interest right to the end." —Publishers Weekly
"I am so hopeful that we have not seen the last of Surplus and Darger." —The Nameless Zine
"Swanwick seems to delight in pinning his heroes into exquisite conundrums that they, in turn, deeply appreciate having to find their ways out of." —Locus
"It's entirely possible that SF needs more rapscallions (they're a bit more baroque and sophisticated than mere rascals), and fortunately Michael Swanwick has taken up the challenge. With only a handful of stories, his raffish duo of Darger and Surplus have become perhaps the most infamous con men in the field since their spiritual ancestors, Fritz Leiber's Fafhrd and the Gray Mouser." —Locus
"Swanwick deftly weaves myth and historical fact together to create an intriguing dystopic mystery whose resolution will elude readers until its final pages." —Shelf Awareness
"This book is like a breath of fresh air, witty and imaginative and just plain goofy fun." —Booklist
"Michael Swanwick, multiple Hugo and Nebula Award winner, is a masterful guide to the bizarre and hilarious adventures of Darger and Surplus. He keeps all the elements moving, suspending disbelief like a talented juggler. Not simply funny, this book sparkles with genuine wit. SF has seen many con artists; Darger and Surplus are a supreme example. Here's to more adventures for the pair." —Analog Science Fiction and Fact
"A grand, high-flying style no working sci-fi author captures better than Swanwick." —Open Letters Monthly
"Darger and Surplus, stars of Dancing with Bears and a handful of short stories, are sure to appeal to fans of classic Fritz Leiber and movies such as The Man Who Would Be King. The exotic locale adds interest, and readers will laugh as they watch the protagonists dig themselves into and out of endless sticky situations." —Library Journal
"Witty, supple, artfully humorous, and vastly engaging." —Kirkus Reviews (starred review)