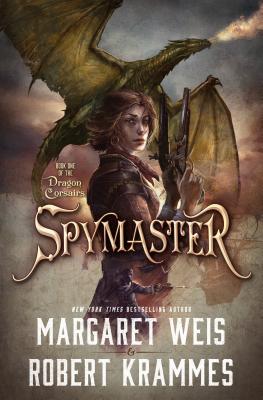 Spymaster (Hardcover)
Tor Books, 9780765381071, 480pp.
Publication Date: March 21, 2017
Description
Spymaster: A bold new swashbuckling fantasy adventure set in the land of the exciting Dragon Brigade trilogyby Margaret Weis and Robert Krammes.
Politics, court intrigue, and piracy combine in this gripping fantasy adventure. On a world already riven by the ancient hatred between the Rosian and Freyan empires, privateers of each nation have long preyed on the ships of the other. What few realize is that a sinister cabal controlled by a rogue dragon is not only behind this piracy, but is organizing criminal enterprises all over the world.
As one privateer and her dragon corsairs try to keep their enterprise afloat, they are caught up in a conspiracy hatched by the cabal . . . and threatened by a mysterious magic crafter who works in the shadows.
Freya, in turmoil because of the accidental death of the heir to the throne, is also deeply in debt. Sir Henry Wallace, their master spy, is charged with replenishing the treasury by inviting dragons from Travia to make Freya their home a decision that will have disastrous consequences for everyone involved.
In a riveting novel of pulse-pounding suspense, the ruthless conspiracy of humans and dragons plots against Sir Henry and the Dragon Corsairs.. And waiting in the wings, planning to throw everything in turmoil, is a young man known as Prince Tom, who claims to be Freya's true and rightful king.
About the Author
Margaret Weis, the internationally bestselling co-creator of Dragonlance and many other popular fantasy series, was born in Missouri and worked as an editor for TSR. She lives in Wisconsin. Robert Krammes has collaborated with Margaret Weis on the bestselling Dragon Brigade trilogy, the final volume of which was The Seventh Sigil. Spymaster, set on the world of Aeronne, is the first in a new trilogy, Dragon Corsairs. He lives in Southern Ohio.
Advertisement