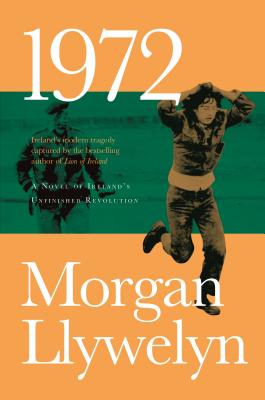 1972 (Paperback)
A Novel of Ireland's Unfinished Revolution (Irish Century #4)
Forge Books, 9780765381330, 368pp.
Publication Date: February 13, 2018
Other Editions of This Title:
Mass Market Paperbound (2/7/2006)
* Individual store prices may vary.
Description
The Irish Century series is the narrative of the epic struggle of the Irish people for independence through the tumultuous twentieth century. Morgan Llywelyn's magisterial multi-novel chronicle of that story began with 1916, continued in 1921 and 1949, and now continues with 1972.
1972 tells the story of Ireland from 1950–1972 as seen through the eyes of young Barry Halloran, son and grandson of Irish revolutionaries. Following family tradition, at eighteen Barry joins the Irish Republican Army to help complete what he sees as 'the unfinished revolution'.
Issues are no longer as clear cut as they once were. His first experience of violence in Northern Ireland shocks and disturbs him, yet he has found a sense of family in the Army which is hard to give up. He makes a partial break by becoming a photographer, visually documenting events in the north rather than participating.
Events lead Barry into a totally different life from the one he expected, yet his allegiance to the ideal of a thirty-two county Irish republic remains undimmed as the problems, and the violence, of Northern Ireland escalate. Then Barry finds himself in the middle of the most horrific event of all: Bloody Sunday in Derry, 1972.
The Irish Century Novels
1916: A Novel of the Irish Rebellion
1921: The Great Novel of the Irish Civil War
1949: A Novel of the Irish Free State
1972: A Novel of Ireland's Unfinished Revolution
1999: A Novel of the Celtic Tiger and the Search for Peace
About the Author
Since 1980, Morgan Llywelyn has created an entire body of work chronicling the Celts and Ireland, from the earliest times to the present day. Her critically acclaimed novels, both of history and of mythology, have been translated into many languages. Her books include 1916 and Bard: The Odyssey of the Irish. She is an Irish citizen and lives in Dublin.
Praise For 1972: A Novel of Ireland's Unfinished Revolution (Irish Century #4)…
"Llywelyn's deft pen is a creative sword." —The Irish American Post
"Morgan Llywelyn has written a wonderful, exciting book - a great reading pleasure." —Irish American News on 1921
"Llywelyn is unexcelled in her knowledge of Irish history and culture. For twenty years she has been my inspiration when it comes to meticulous research and respect for the people who lived her stories. Now, with considerable powers of description, Llywelyn explores the nooks and quirks and fearful consequences of a tumultuous time in Irish history." —Lucia St. Clair Robson