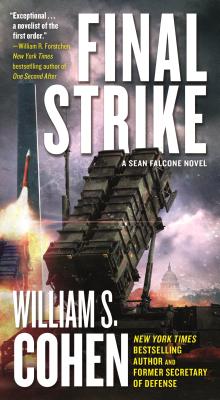 Final Strike
A Sean Falcone Novel
Mass Market

* Individual store prices may vary.
Other Editions of This Title:
Hardcover (2/13/2018)
Description
From New York Times bestselling author, former Secretary of Defense, and US Senator William S. Cohen, the political, apocalyptic thriller Final Strike dramatizes one of the most terrifying global security nightmares: an asteroid hurtling towards Earth.
Sixty million years ago, the K-T Asteroid obliterated the dinosaurs, and now its apocalyptic twin is rocketing toward the US on a similar mission of extermination. Russian President Boris Lebed, the charismatic successor to Vladimir Putin, wants to turn that asteroid into a superweapon to use against the US and is holding Hamilton hostage in Moscow until Hamilton agrees to help. Former Senator and National Security Advisor Sean Falcone leads a dangerous off-the-books operation to bring Hamilton home and derail Lebed's disastrous plan.
But will Falcone succeed in time?
The asteroid is hurtling toward earth. If it is not deflected, humanity will go the way of dinosaurs, and the entire planet will burn. Only one strategy has a chance of stopping humanity's extinction—only one. There is no Plan B.
The fate of the world hangs in the balance.
Forge Books, 9780765381644, 560pp.
Publication Date: December 31, 2018
About the Author
WILLIAM S. COHEN served as Secretary of Defense under President Bill Clinton from 1997-2001. A Republican, Cohen spent twenty-four years in office as a Congressperson and a Senator before his noteworthy appointment to the cabinet of a Democratic president. During his tenure as the 20th U.S. defense minister, Cohen directed America's military actions in Iraq and Kosovo. In 2001, he founded the Cohen Group, a global business consulting firm. He has written for The Washington Post, the Financial Times, The New York Times, and The Wall Street Journal and is the author of the novel Dragon Fire. William S. Cohen lives with his wife in the Washington, D.C. area.
or
Not Currently Available for Direct Purchase