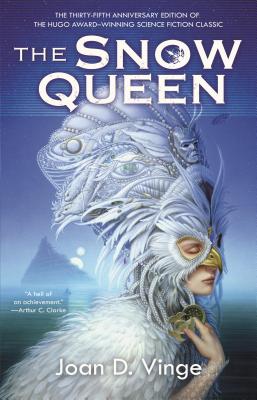 The Snow Queen
Paperback

* Individual store prices may vary.
Description
This reissue of a modern classic of science fiction, the Hugo and Locus Award-winning and Nebula-nominated The Snow Queen, marks the first time the book has been reprinted in fifteen years.
The imperious Winter colonists have ruled the planet Tiamat for 150 years, deriving wealth from the slaughter of the sea mers. But soon the galactic stargate will close, isolating Tiamat, and the 150-year reign of the Summer primitives will begin. Their only chance at surviving the change is if Arienrhod, the ageless, corrupt Snow Queen, can destroy destiny with an act of genocide. Arienrhod is not without competition as Moon, a young Summer-tribe sibyl, and the nemesis of the Snow Queen, battles to break a conspiracy that spans space.
Interstellar politics, a millennia-long secret conspiracy, and a civilization whose hidden machineries might still control the fate of worlds all form the background to this spectacular hard science fiction novel from Joan D. Vinge.
Tor Books, 9780765381774, 496pp.
Publication Date: October 27, 2015
About the Author
Joan D. Vinge wrote the Hugo Award bestseller The Snow Queen, sequels including the Hugo finalist The Summer Queen and the Nebula finalist World's End, and the Cat series. She's written more than a dozen movie adaptations, including the #1 bestseller The Return of The Jedi Storybook. She lives in Madison, Wisconsin.