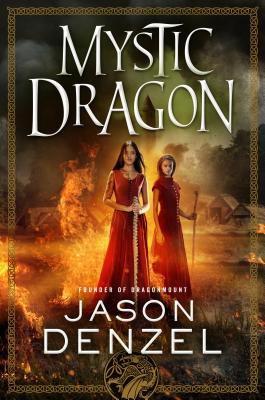 Mystic Dragon (The Mystic Trilogy #2) (Hardcover)
Tor Books, 9780765381996, 480pp.
Publication Date: July 17, 2018
Other Editions of This Title:
Digital Audiobook (7/16/2018)
Paperback (6/18/2019)
* Individual store prices may vary.
Description
Mystic Dragon: The enchanting epic fantasy novel from Jason Denzel, the founder of Dragonmount.
Seven years have passed since lowborn Pomella AnDone became an unlikely Mystic's apprentice.
Though she has achieved much in a short time, as a rare celestial event approaches, Pomella feels the burden of being a Mystic more than ever. The Mystical realm of Fayün is threatening to overtake the mortal world, and as the two worlds slowly blend together, the land is thrown into chaos. People begin to vanish or are killed outright, and Mystics from across the world gather to protect them. Among them is Shevia, a haunted and brilliant prodigy whose mastery of the Myst is unlike anything Pomella has ever seen.
Shevia will challenge Pomella in every possible way, from her mastery of the Myst to her emotional connection with Pomella's own friends—and as Shevia's dark intentions become more clear, Pomella fears she may be unstoppable.
About the Author
Jason Denzel is the founder of Dragonmount, the leading online community for Robert Jordan's "The Wheel of Time" saga and the web's top destination for franchise-related news, features, and discussion. Dragonmount has been featured in USA Today, CNN, ABC, Wired, and the Los Angeles Times. Denzel lives in Northern California with his two young boys, and owns a lot of swords. He is the author of the Mystic Trilogy (Mystic, Mystic Dragon, and Mystic Skies).
Praise For Mystic Dragon (The Mystic Trilogy #2)…
"The twists and turns in the plot kept this reader on her toes. Pomella has spunk and courage, and sweet Sim is loyal to a fault. It's hard not to fall into this story."—RT Book Reviews on Mystic
"Denzel, best known for his founding of a preeminent Robert Jordan fan site, builds a solidly enjoyable debut. Pomella's manipulation of the Myst through song gives the story a poetic feel. This fantasy adventure is clearly inspired by the classics but still finds something new to say."—Publishers Weekly on Mystic