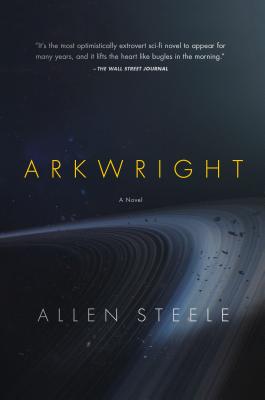 Arkwright (Paperback)
A Novel
Tor Books, 9780765382160, 352pp.
Publication Date: February 14, 2017
Other Editions of This Title:
Hardcover (3/1/2016)
MP3 CD (9/20/2016)
* Individual store prices may vary.
Description
A hard science fiction novel from multiple Hugo Award–winner Allen Steele

Best 19 Science Fiction Books of 2016

Allen Steele, creator of the Coyote series of books, has written a triumphant science fiction novel hailed as triumphantly optimistic. Nathan Arkwright is a seminal author of the twentieth century. At the end of his life he becomes reclusive and cantankerous, refusing to appear before or interact with his legion of fans. Little did anyone know, Nathan was putting into motion his true, timeless legacy.

Convinced that humanity cannot survive on Earth, his Arkwright Foundation dedicates itself to creating a colony on an Earth-like planet several light years distant. Fueled by Nathan's legacy, generations of Arkwrights are drawn together, and pulled apart, by the enormity of the task and weight of their name.
About the Author
Allen Steele worked as a freelance journalist before becoming a prolific science fiction writer. He has garnered multiple Hugo Awards for his novellas and novelettes; his novel Orbital Decay won the Locus Award for Best First Novel in 1990.
Praise For Arkwright: A Novel…
"He reminds us of how many of our dreams of and hopes for our future have been shaped by the real Legion of Tomorrow—the writers of science fiction like Robert A. Heinlein, Fred Pohl, E.E. Smith, Isaac Asimov, John W. Campbell, and Allen Steele himself." —New York Review of Science Fiction

"Arkwright is a book that those with knowledge of the genre's past will appreciate, and those relatively new to it will realise why the interest in SF has endured. It is brilliant." —SFF World

"Arkwright is an addictive and entertaining read that packs an unbelievable journey that feels larger and grander in scope than should fit in the pages that bind it, but it pulls it off and pulls it off splendidly. It takes the reader through the history and evolution of Science Fiction, rubbing elbows with Asimov, Heinlein and Clarke, and then beyond present day, looking towards the future and the stars for what lays in store for us next." —The Speculative Herald (4 ½ stars)

"Arkwright is an alternate history, yes, of what we should and could have done. But it's also a renewed vision of what we still could do. It's the most optimistically extrovert sci-fi novel to appear for many years, and it lifts the heart like bugles in the morning." —Wall Street Journal

"Arkwright is a novel you can hand to anyone and say 'This is why I like science fiction.'" —SF Signal (four out of five stars)

"Arkwright is a great read, and one that wears its love for genre fiction proudly. Steele has taken the brightest and most recognizable parts of science fiction—that sense of wonder, the ability to tell grand stories on cosmic levels, and sense of can-do exploration—and woven it into a novel that's profoundly aware of where it comes from. It's certainly a science fiction novel that follows in the path of authors like Heinlein and Clarke, and recent books such as Aurora and Seveneves. At the end of the day, this is a book that really celebrates genre fiction and the possibilities that puts forth for our own future." –iO9

"In Allen Steele's capable hands, this wildly unlikely story—stretching across generations of Arkwrights—becomes totally plausible. It's a fun wish-fulfillment romp that every Analog reader should enjoy." —Analog

"Steele's story benefits from roots in real science and actual space-travel theories." —RT Book Reviews (three out of Five? Stars)