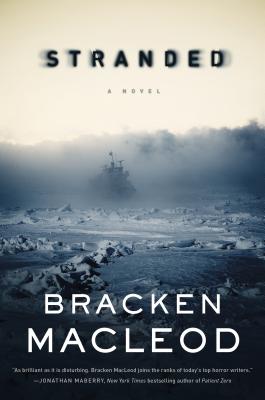 Stranded (Hardcover)
A Novel
Tor Books, 9780765382436, 304pp.
Publication Date: October 4, 2016
Other Editions of This Title:
Digital Audiobook (10/24/2016)
Paperback (8/29/2017)
* Individual store prices may vary.
Description
In the spirit of John Carpenter's The Thing and Jacob's Ladder comes Stranded -- a terrifying, icebound thriller where nothing is quite what it seems by Bracken MacLeod.
Badly battered by an apocalyptic storm, the crew of the Arctic Promise find themselves in increasingly dire circumstances as they sail blindly into unfamiliar waters and an ominously thickening fog. Without functioning navigation or communication equipment, they are lost and completely alone. One by one, the men fall prey to a mysterious illness. Deckhand Noah Cabot is the only person unaffected by the strange force plaguing the ship and her crew, which does little to ease their growing distrust of him.
Dismissing Noah's warnings of worsening conditions, the captain of the ship presses on until the sea freezes into ice and they can go no farther. When the men are ordered overboard in an attempt to break the ship free by hand, the fog clears, revealing a faint shape in the distance that may or may not be their destination. Noah leads the last of the able-bodied crew on a journey across the ice and into an uncertain future where they must fight for their lives against the elements, the ghosts of the past and, ultimately, themselves.
About the Author
BRACKEN MACLEOD is the author of MOUNTAIN HOME and WHITE KNIGHT. His short fiction has appeared in several magazines and anthologies including, Shock Totem, LampLight, ThugLit, and Splatterpunk. He has worked as a trial attorney, philosophy instructor, and as a martial arts teacher. He lives in New England with his wife and son, where he is at work on his next novel.
Praise For Stranded: A Novel…
"Stranded is a genre-transcending triumph, proof that horror isn't about blobs-in-the-basement (a.k.a., the gore that bores), it's about what's real (really) inside us all, and the pressure cooker of circumstances that brings that – all that – to the surface. With this book, Bracken MacLeod steps squarely into the highest rank of writers as he takes risks others couldn't hope to conceptualize ... and magically makes them work." —Andrew Vachss, award-winning author of The Burke series
"Stranded puts a chill deep into your bones from the first chapter, and that chill stays with you until the end. It's an eerie arctic adventure tale in which the frozen wilderness is so tellingly realized that it becomes alive and relentlessly dangerous. Bracken MacLeod is a powerful writer, and this mind-bending novel of madness is his strongest work yet. Read it, but wear a warm sweater and huddle close to the fire." —Chet Williamson, International Horror Guild Award-winning author of Psycho: Sanitarium
"As brilliant as it is disturbing. Bracken MacLeod joins the ranks of today's top horror writers." -Jonathan Maberry, New York Times bestselling author of Patient Zero
"An ice-cold Arctic thriller with a Twilight Zone twist and suspense to spare. The best debut novel I've read in ages." -Christopher Golden, New York Times bestselling author of Dead Ringers

"Stunning. MacLeod leads us on an existential journey through hell that moves smoothly from unease to horror, finding every emotional beat and giving full measure to each human hope and fear." -Dana Cameron, Agatha, Anthony, and Macavity award winning author
"The work of a master storyteller at the top of his game. You'll smell the ocean air, hear the waves as they slap against the hull, and experience the white-knuckle terror of trying to survive in the face of the unknown. If Bracken MacLeod can't scare you, you're already dead!" -Nicholas Kaufmann, author of Die And Stay Dead
"A smart, surprisingly-moving, first-rate thriller that chucks Martin Cruz Smith's Polar Star down a Twilight-Zone-esque rabbit role." -Paul Tremblay, author of The Little Sleep
"From the very first storm at sea, MacLeod grabs you by the throat. A must read for thriller fans from a remarkable new talent!" -Nate Kenyon, author of Day One
or
Not Currently Available for Direct Purchase