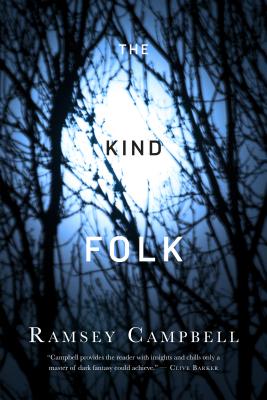 The Kind Folk (Hardcover)
A Novel
Tor Books, 9780765382450, 224pp.
Publication Date: August 23, 2016
* Individual store prices may vary.
Description
In Ramsey Campbell's The Kind Folk, fairies are real . . . and they're coming for you.
Luke Arnold is a successful stage comedian who, with his partner Sophie Drew, is about to have their first child. Their life seems ideal and Luke feels that true happiness is finally within his grasp.
This wasn't always the case. Growing up in a loving but dysfunctional family, Luke was a lonely little boy who never felt that he belonged. While his parents adored him, the whole family knew that due to a mix-up at the hospital, Luke wasn't their biological child. His parents did the best they could to make the lad feel special. But it was his beloved uncle Terence who Luke felt most close to, a man who enchanted (and frightened) the lad with tales of the "Other"--eldritch beings, hedge folks, and other fables of Celtic myth.
When Terence dies in a freak accident, Luke suddenly begins to learn how little he really knew his uncle. How serious was Terence about the magic in his tales? Why did he travel so widely by himself after Luke was born, and what was he looking for? Soon Luke will have to confront forces that may be older than the world in order to save his unborn child.
About the Author
Ramsey Campbell has won more awards than any other living author of horror or dark fantasy, including four World Fantasy Awards, nine British Fantasy Awards, three Bram Stoker Awards, and two International Horror Guild Awards. Critically acclaimed both in the US and in England, Campbell is widely regarded as one of the genre's literary lights for both his short fiction and his novels. His classic novels, such as The Face that Must Die, The Doll Who Ate His Mother, and The Influence, set new standards for horror as literature.  His collection, Scared Stiff, virtually established the subgenre of erotic horror.
 
Ramsey Campbell's works have been published in French, German, Italian, Spanish, Japanese, and several other languages. He has been President of the British Fantasy Society and has edited critically acclaimed anthologies, including Fine Frights. Campbell's best known works in the US are Obsession, Incarnate, Midnight Sun, and Nazareth Hill.