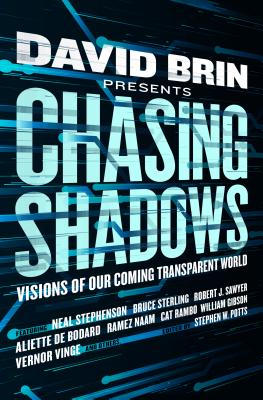 Chasing Shadows (Hardcover)
Visions of Our Coming Transparent World
Tor Books, 9780765382580, 336pp.
Publication Date: January 10, 2017
Other Editions of This Title:
Paperback (3/13/2018)
* Individual store prices may vary.
Description
David Brin, Hugo award-winning author of The Uplift War, presents Chasing Shadows, a collection of short stories and essays by other science fiction luminaries. As we debate Internet privacy, revenge porn, the NSA, and Edward Snowden, cameras get smaller, faster, and more numerous. Has Orwell's Big Brother finally come to pass? Or have we become a global society of thousands of Little Brothers—watching, judging, and reporting on one another?
Partnering with the Arthur C. Clarke Center for Human Imagination, and inspired by Brin's nonfiction book The Transparent Society, noted author and futurist David Brin and scholar Stephen Potts have compiled essays and short stories from writers such as Robert J. Sawyer, James Morrow, William Gibson, Damon Knight, Jack McDevitt, and many others to examine the benefits and pitfalls of technologic transparency in all its permutations.
About the Author
David Brin is a scientist, speaker, technical consultant and world-known author. His books include The Uplift Saga, Kiln People, and Existence, and his novels have been New York Times bestsellers, winning multiple Hugo, Nebula, and other awards. Brin lives near San Diego, California, with his wife and their three children.
Praise For Chasing Shadows: Visions of Our Coming Transparent World…
Praise for Chasing Shadows
"Entertaining and provocative, and piercingly relevant for our own time."—Toronto Star
"This anthology satisfies on many levels. . . . If we enter the transparent world with any kind of foreknowledge, it will be due to well-conceived and well-executed projects such as this one."—Locus
Praise for David Brin's The Transparent Society
"As you follow his argument for two-way social transparency, you realize your only hope is that he is right." —George B. Dyson, author of Darwin Among the Machines

"Brin expounds upon his belief that people need to keep watch on snooping governments, employers, insurance companies, and so on. . . . In assessing the current state of affairs, Brin divulges a barrage of ways and means of monitoring electronic transmissions." —Science News
"If enough people read Brin's book . . . then it may turn into a self-negating prophecy: a warning of dystopia that by virtue of the horror it paints helps avoid that horror. That was the function of George Orwell's 1984. That is an honorable role for anyone's book." —J. Bradford DeLong, Professor of Economics, UC Berkeley
"David Brin's nonfiction marvel, The Transparent Society, is what Lewis Mumford or Thorstein Veblen might write, could they contemplate our increasingly webbed world and its prospects for social change. . . . Brin's book is full of imaginative, far-sighted concern for how fluid information is going to transform our civil society." —William H. Calvin, neurophysiologist and author of How Brains Think
or
Not Currently Available for Direct Purchase