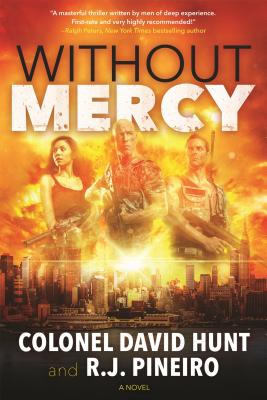 Without Mercy (Hardcover)
A Hunter Stark Novel
Forge Books, 9780765382603, 480pp.
Publication Date: March 7, 2017
* Individual store prices may vary.
Description
When ISIS detonates nuclear weapons in two key American strongholds, the United States plunges into chaos and the CIA scrambles to prevent a third tragedy in Without Mercy, a terrifying and topical thriller from Colonel David Hunt and R.J. Pineiro.
The unthinkable has happened: ISIS, covertly assisted by Pakistan's intelligence services, has acquired nuclear weapons and the ability to deliver them anywhere in the world. They begin with an attack at Bagram Airfield, America's largest military base in Afghanistan. A second weapon is detonated in Battery Park in New York City.
The blast levels a square mile of Manhattan, including the Financial District. Hundreds of thousands perish. The American economy is in chaos. Banks close their doors. The U.S. supply chain is disrupted. Riots and looting break out while enemies in the Middle East burn U.S. flags in celebration.
The stakes skyrocket when Islamabad CIA Station Chief Bill Gorman unearths evidence of a third bomb headed our way. Across two continents the chase is on to find the runaway terrorists led by the ruthless and capable Salma Bahmani, star agent of Pakistan's Inter-Services Intelligence, the dread ISI. She will stop at nothing to deliver what could be the final nail in America's coffin.
About the Author
COLONEL DAVID HUNT has spent almost thirty years fighting our nation's wars, from Vietnam to Bosnia. He is a New York Times bestselling author and has been a commentator with Fox News for ten years. Hunt lives in Maine with his family.

R.J. PINEIRO is a 27-year veteran of the computer industry, where he held various positions at Advanced Micro Devices, Inc., retiring in 2011. He is the author of many internationally acclaimed novels including Shutdown, Firewall, Cyberterror, and Havoc, as well as the millennium thrillers, 01-01-00 and Y2K. He makes his home in central Texas, where he lives with his wife, Lory Anne, and his son, Cameron.
Praise For Without Mercy: A Hunter Stark Novel…
"A masterful thriller written by men of deep experience. Epic in scale yet swiftly paced, Without Mercy is as convincing as it is chilling. . . . First-rate and very highly recommended!" —Ralph Peters, New York Times bestselling author
"The ultimate terrorist scenario, with authenticity steeped into every page. Col. David Hunt and R.J. Pineiro put their credentials on display in stellar fashion. Readers who enjoy Tom Clancy and Brad Taylor will find a new favorite." —Ward Larsen, USA Today bestselling author
"Constant action, sympathetic heroes, believable evildoers, and absolute authenticity on every page." —Publishers Weekly, starred review
"The authenticity of the story makes the tale particularly terrifying, especially at a time when real-life international relations appear unstable. A fine apocalyptic thriller right up the alley of Clancy and Thor fans." —Booklist
"A gripping and rather terrifying thriller . . . The story moves at top speed throughout." —BookLoons

"A superb book . . . one of the best thrillers I have read since Stephen Coonts' Liberty's Last Stand. I did not want to put it down." —Fresh Fiction