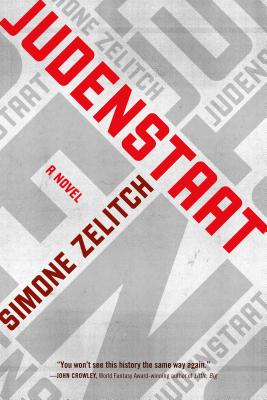 Judenstaat (Hardcover)
A Novel
Tor Books, 9780765382962, 320pp.
Publication Date: June 21, 2016
Other Editions of This Title:
Paperback (1/1/2020)
* Individual store prices may vary.
Description
Simone Zelitch has created an amazing alternate history in Judenstaat. On April 4th, 1948 the sovereign state of Judenstaat was created in the territory of Saxony, bordering Germany, Poland, and Czechoslovakia.
Forty years later, Jewish historian Judit Klemmer is making a documentary portraying Judenstaat's history from the time of its founding to the present. She is haunted by the ghost of her dead husband, Hans, a Saxon, shot by a sniper as he conducted the National Symphony. With the grief always fresh, Judit lives a half-life, until confronted by a mysterious, flesh-and-blood ghost from her past who leaves her controversial footage on one of Judenstaat's founding fathers--and a note:
"They lied about the murder."
Judit's research into the footage, and what really happened to Hans, embroils her in controversy and conspiracy, collective memory and national amnesia, and answers far more horrific than she imagined.
About the Author
Simone Zelitch is the author of three prior novels, including Louisa which won the Goldberg Prize for Emerging Jewish Fiction. Her work has been featured on NPR and recent honors include a National Endowment for the Arts grant.
Praise For Judenstaat: A Novel…
"A story that, despite being preposterous, feels altogether real." —New York Times Book Review

"Judenstaat is a novel of vast historical imagination—also a fantasy engendered from grief, from love, and from the devastating particulars of Europe's 20th century tragedy. It's a work of great feeling."—Ken Kalfus, Faulkner Award finalist and author of A Disorder Peculiar to the Country
"Zelitch deftly weaves the personal and the political." —Jewish Daily Forward
"The glory of Simone Zelitch's page-turning alternate history is the uncanny precision with which she has deftly transformed the threads of actual events into the stunning new fabric of her novel." —Book Page
"Like Ari Shavit's recent book about the founding of Israel, My Promised Land, Zelitch's Judenstaat raises some profound questions about the cost of the Zionist enterprise." —Jewish Book Council
"Judenstaat reveals the dichotomies fracturing Jewish life—religious and secular, reactionary and reformist—in an attempt to engage with the larger question of what it means to be Jewish in a post-Holocaust world." —Shelf Awareness
"Beautifully told, thoughtful and disturbing alternate history." —BoingBoing
"A philosophically resonant tale about the shaping, and force, of collective memory." —Kirkus Reviews