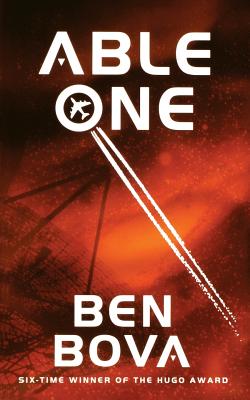 Able One
Paperback

* Individual store prices may vary.
Other Editions of This Title:
Digital Audiobook (2/1/2010)
Hardcover (2/2/2010)
Mass Market Paperbound (8/12/2014)
MP3 CD (2/2/2010)
Compact Disc (2/2/2010)
Compact Disc (2/2/2010)
Description
When a nuclear missile launched by a rogue North Korean faction explodes in space the resulting shockwave destroys the world's satellites, throwing global communication into chaos. The United States military satellites, designed to withstand such an assault, show that two more missiles are sitting on the launch pad in North Korea, ready to be deployed. Faced with the threat of a thermonuclear attack, the United States has only one possible defense: Able One.

ABL-1, or Able One, is a modified 747 fitted with a high-powered laser able to knock out missiles in flight. But both the laser's technology and the jet's crew are untested. What was originally to be a training flight with a skeleton crew turns into a desperate race to destroy the two remaining nukes. Will Able One's experimental technology be enough to prevent World War III-especially when it becomes clear that a saboteur is onboard?

Able One is a timely thrill-ride by one of science fiction's most respected novelists.
Praise For Able One…
"Bova proves himself equal to the task of showing how adversity can temper character in unforeseen ways." —The New York Times

"Bova gets better and better, combining plausible science with increasingly complex fiction." —Daily News (Los Angeles)

"A cautionary but hopeful thriller . . . Modern twists and a genuinely surprising ending." —Publishers Weekly on The Green Trap

"Bova brings his usual imaginative plotting and attention to detail to this contemporary thriller, and fans of the author, as well as those of Michael Crichton-style science thrillers, should be well pleased." —Booklist on The Green Trap

"Ben Bova's latest near-future SF thriller supplies a suspenseful ride and plenty of high-tech hardware as it builds to a climactic confrontation over Washington, D.C." —Publishers Weekly on Powersat
Tor Books, 9780765382986, 400pp.
Publication Date: February 2, 2010
About the Author
Ben Bova (1932-2020) was the author of more than a hundred works of science fact and fiction, including Able One, Transhuman, Orion, the Star Quest Trilogy, and the Grand Tour novels, including Titan, winner of John W. Campbell Memorial Award for best novel of the year. His many honors include the Isaac Asimov Memorial Award in 1996, the Lifetime Achievement Award of the Arthur C. Clarke Foundation in 2005, and the Robert A. Heinlein Award "for his outstanding body of work in the field of literature" in 2008.

Dr. Bova was President Emeritus of the National Space Society and a past president of Science Fiction Writers of America, and a former editor of Analog and former fiction editor of Omni. As an editor, he won science fiction's Hugo Award six times. His writings predicted the Space Race of the 1960s, virtual reality, human cloning, the Strategic Defense Initiative (Star Wars), electronic book publishing, and much more.

In addition to his literary achievements, Bova worked for Project Vanguard, America's first artificial satellite program, and for Avco Everett Research Laboratory, the company that created the heat shields for Apollo 11, helping the NASA astronauts land on the moon. He also taught science fiction at Harvard University and at New York City's Hayden Planetarium and worked with such filmmakers as George Lucas and Gene Roddenberry.