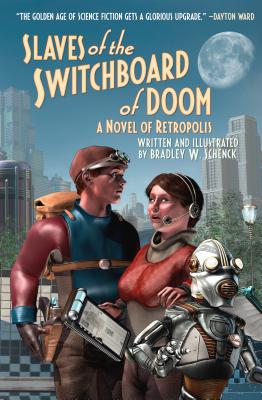 Slaves of the Switchboard of Doom: A Novel of Retropolis (Hardcover)
A Novel of Retropolis
Tor Books, 9780765383297, 384pp.
Publication Date: June 13, 2017
Description
Slaves of the Switchboard of Doom is unlike anything else in genre fiction: a gonzo, totally bonkers vision of the future imagined in the 1939 World Fair a hilarious, illustrated retro-futurist adventure by artist and debut novelist Bradley W. Schenck. It's a gut-busting look at the World of Tomorrow, populated with dashing, jet-packed heroes, faithful robot sidekicks, mad scientists, plucky rocket engineers, sassy switchboard operators, space pirates, bubble-helmeted canine companions, and more.
After a surprise efficiency review, the switchboard operators of Retropolis find themselves replaced by a mysterious system they don't understand. Nola Gardner pools their severance pay to hire Dash Kent, freelance adventurer and apartment manager, to find out what happened. Dash discovers that the replacement switchboard is only one element of a plan concocted by an insane civil engineer: a plan so vast that it reaches from Retropolis to the Moon.
About the Author
BRADLEY W. SCHENCK is the owner and operator of the web site Retropolis, which showcases his unique retro-futurist artwork. He has been a digital artist, art director, and video game developer. Bradley is the author of The Lair of the Clockwork Book.
Advertisement