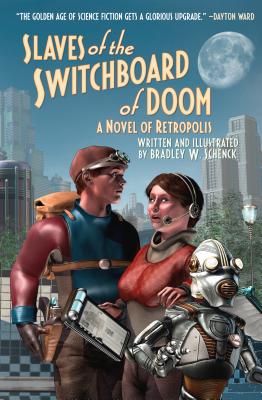 Slaves of the Switchboard of Doom
A Novel of Retropolis
Paperback

* Individual store prices may vary.
Other Editions of This Title:
Hardcover (6/13/2017)
Description
ROCKETS. ROBOTS. DEATH RAYS. MAD SCIENCE. THE FUTURE THAT NEVER WAS IS BACK.

If Fritz Lang's Metropolis somehow mated with Futurama, their mutant offspring might well be Slaves of the Switchboard of Doom. Inspired by the future imagined in the 1939 World Fair, this hilarious, beautifully illustrated adventure by writer and artist Bradley W. Schenck is utterly unlike anything else in science fiction: a gonzo, totally bonkers, gut-busting look at the World of Tomorrow, populated with dashing, bubble-helmeted heroes, faithful robot sidekicks, mad scientists, plucky rocket engineers, sassy switchboard operators, and much, much more—enhanced throughout by two dozen astonishing illustrations.
After a surprise efficiency review, the switchboard operators of Retropolis are replaced by a mysterious system they don't understand. Dash Kent, a freelance adventurer and apartment manager, is hired to find out what happened to their jobs. Dash discovers that the replacement switchboard is only one element of a plan concocted by an insane civil engineer: a plan so vast that it reaches from Retropolis to the Moon.
And no one—not the Fraternal League of Robotic Persons, nor the mad scientists of Experimental Research District, nor even the priests of the Temple of the Spider God, will know what hit them when that plan is complete. Because when engineers go mad, they know how to build madness.
And meanwhile, the World's Smallest Giant Robot is striding toward hios destiny. An inch or two at a time.
Praise For Slaves of the Switchboard of Doom: A Novel of Retropolis…
"Grab your ray pistol and get ready, because Slaves of the Switchboard of Doom is Bradley Schenck's delightful, loving tribute to a future often imagined yet never realized. Welcome to Retropolis!" —Dayton Ward, New York Times bestselling author of Star Trek: Elusive Salvation
"Slaves of the Switchboard of Doom is the novel you've been waiting for -- you just didn't know it.... This novel gave me a happy buzz." —F. Paul Wilson, New York Times bestselling author of Repairman Jack

"Robotastic." —Lawrence M. Schoen, author of Barsk: The Elephants' Graveyard
"Like a madcap retro-tech collaboration by Terry Pratchett and Isaac Asimov. I loved it!" —Jamies Cambias, author of A Darkling Sea

"Funny and action-packed." —Allen Steele, author of Arkwright
"A madcap mash-up of retro-sf, full of fearless heroes and heroines dashing about like Flash Gordon meets the Keystone Cops." —Matthew Hughes
"One of the real treats of the year." —Toronto Star

Tor Books, 9780765383303, 384pp.
Publication Date: November 27, 2018
About the Author
BRADLEY W. SCHENCK is the owner and operator of the web site RETROPOLIS, which showcases his unique retro-futurist artwork. He has been a digital artist, art director, and video game developer.
or
Not Currently Available for Direct Purchase