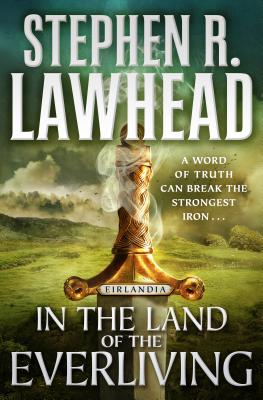 In the Land of the Everliving (Hardcover)
Eirlandia, Book Two (Eirlandia Series #2)
Tor Books, 9780765383464, 320pp.
Publication Date: February 26, 2019
* Individual store prices may vary.
Description
Stephen R. Lawhead, the critically-acclaimed author of the Pendragon Cycle continues his Eirlandia Celtic fantasy series with In the Land of the Everliving.
Conor and his sword companions must leave the safety of the faéry kingdom for the barbarian Scálda threaten to overrun Eirlandia.
As he fights for his people's survival, Conor discovers that several of the clan leaders have betrayed their nation by aiding the Scálda. The corruption is such that Conor and his men choose to become outcasts, clan-less and open to attack by friend and foe alike.
They form their own warband...and the beginning of a legend as Conor unites the common people of Eirlandia to drive the poison from their land.
About the Author
STEPHEN R. LAWHEAD is the internationally acclaimed author of the best-selling Pendragon Cycle, which received critical acclaim for its creative retelling of the Arthur legend and historical credibility. In addition to that series, he is the author of more than 25 novels and numerous children's and non-fiction books of fantasy and imaginative fiction, including the award-winning Song of Albion trilogy. His trademark style of gifted storytelling combined with strong spiritual vision has placed his books among the enduring favorites of fiction. Lawhead makes his home in Oxford, England, with his wife, Alice.
Praise For In the Land of the Everliving: Eirlandia, Book Two (Eirlandia Series #2)…
Praise for the Eirlandia Series
"Fierce companions, mighty foes, and fae magic all intertwine with multiple points of view in an exciting tale."—Booklist on In the Region of the Summer Stars

"Brilliant storytelling filled with lyrical language."—RT Book Reviews on In the Region of the Summer Stars
Praise for Stephen R. Lawhead
"Lawhead brilliantly creates an authentic and vivid Arthurian Britain, and never forsakes a sense of wonder."—Publishers Weekly on Pendragon
"Lawhead demonstrates a genuine love for and understanding of Anglo-Celtic mythology."—Library Journal on The Paradise War
"Lawhead treats his Celtic lore with respect."—Kirkus on The Paradise War
"In the sweeping style of George R.R. Martin and J.R.R. Tolkien, Lawhead has created a diverse universe and rich cast of characters."—Library Journal on Bright Empires