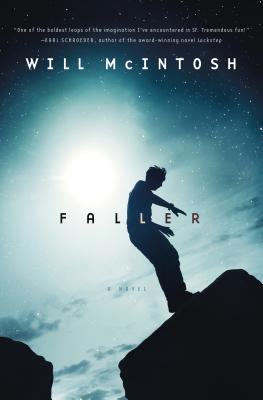 Faller (Hardcover)
A novel
Tor Books, 9780765383556, 352pp.
Publication Date: October 25, 2016
* Individual store prices may vary.
Description
Faller is a new gripping standalone, science fiction thriller by Hugo Award-winning author Will McIntosh.
Day One: No one can remember anything—who they are, family and friends, or even how to read. Reality has fragmented and Earth consists of an islands of rock floating in an endless sky. Food, water, electricity—gone, except for what people can find, and they can't find much.
Faller's pockets contain tantalizing clues: a photo of himself and a woman he can't remember, a toy solider with a parachute, and a mysterious map drawn in blood. With only these materials as a guide, he makes a leap of faith from the edge of the world to find the woman and set things right.
He encounters other floating islands, impossible replicas of himself and others, and learns that one man hates him enough to take revenge for actions Faller can't even remember.
About the Author
WILL MCINTOSH is a Hugo and Nebula award-winner for his short story "Bridesicle." He has a PhD in social psychology and has authored several novels including Defenders and Love Minus Eighty.
Praise For Faller: A novel…
"Faller is exciting, refreshing, original as it can be, and action packed . . . It cannot be recommended enough." —New York Journal of Books
"An apocalyptic book that is completely refreshing." –Portland Book Review
"Whatever old classics may or may not have influenced McIntosh, the novel he produced is utterly state-of-the-art SF, with bold new ideas, old-school action, and characters whom you will root wholeheartedly for. Prepare to fall from great heights into unknown territory." —Locus
"A strong, strange adventure." —RT Book Reviews, starred review
"McIntosh has created an exciting and engaging sf thriller." –Booklist
"Fun and engaging." —Bibliosanctum
"McIntosh is a writer of impressive skill." —The Speculative Herald
"Faller is mind-bending, futuristic science fiction that contains elements of mystery, intrigue, romance, world war, biological warfare and high-tech science, along with likable characters who often make decisions based on gut feelings rather than logic." —Shelf Awareness
"The book carries you along smoothly and fluidly, keeping you engaged in the characters both past and present and heavily invested in what happens with them. Making Faller an easy book to recommend." —Fantasy Literature
"A novel I won't forget quickly . . . Reminiscent of Gene Wolfe." —Far Beyond Reality
or
Not Currently Available for Direct Purchase