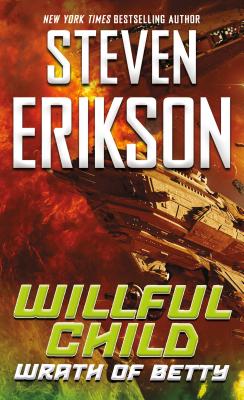 Willful Child (Mass Market)
Wrath of Betty
Tor Science Fiction, 9780765383921, 336pp.
Publication Date: October 30, 2018
Other Editions of This Title:
Hardcover (11/1/2016)
MP3 CD (10/3/2017)
MP3 CD (11/1/2016)
Compact Disc (11/1/2016)
Compact Disc (11/1/2016)
* Individual store prices may vary.
Description
From Steven Erikson--the New York Times bestselling author of the acclaimed Malazan Book of the Fallen series--comes Willful Child: Wrath of Betty, a science fiction novel of devil-may-care, near calamitous, and downright chaotic adventures through the infinite vastness of interstellar space. And a hugely entertaining spoof on Star Trek's explorations of the final frontier, parodying and paying fond homage to the genre.
These are the voyages (such as they are) of the Engage-Class Starship Willful Child. Its rambunctious mission: to seek out new worlds on which to plant the Terran flag, to subjugate and occasionally obliterate strange and disgusting lifeforms, and to boldly go…well, you get the idea.
Captain Hadrian Sawback is back at it again. Leading his not-so-crack crew on a series of misadventures. Whether or not the universe is thankful for that remains to be seen. What is for certain is that he may have finally met his match in recklessness in the wiley Captain Betty. The question is, can Sawback outsmart a captain as brilliant (or is it just lucky?) as he?
About the Author
Steven Erikson is an archaeologist and anthropologist and a graduate of the Iowa Writers' Workshop. His Malazan Book of the Fallen series, including The Crippled God, Dust of Dreams, Toll the Hounds and Reaper's Gale, have met with widespread international acclaim and established him as a major voice in the world of fantasy fiction. The first book in the series, Gardens of the Moon, was shortlisted for a World Fantasy Award. The second novel, Deadhouse Gates, was voted one of the ten best fantasy novels of 2000 by SF Site. He lives in Canada.