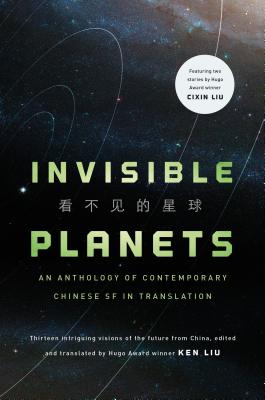 Invisible Planets (Paperback)
Contemporary Chinese Science Fiction in Translation
Tor Books, 9780765384201, 400pp.
Publication Date: August 21, 2018
Other Editions of This Title:
Hardcover (11/1/2016)
* Individual store prices may vary.
Description
Invisible Planets, edited by multi award-winning writer Ken Liu--translator of the bestselling and Hugo Award-winning novel The Three Body Problem by acclaimed Chinese author Cixin Liu--is his second thought-provoking anthology of Chinese short speculative fiction. Invisible Planets is a groundbreaking anthology of Chinese short speculative fiction.

The thirteen stories in this collection, including two by Cixin Liu and the Hugo and Sturgeon award-nominated "Folding Beijing" by Hao Jingfang, add up to a strong and diverse representation of Chinese SF. Some have won awards, some have garnered serioius critical acclaim, some have been selected for Year's Best anthologies, and some are simply Ken Liu's personal favorites.

To round out the collection, there are several essays from Chinese scholars and authors, plus an illuminating introduction by Ken Liu. Anyone with an interest in international science fiction will find Invisible Planets an indispensable addition to their collection.

For more Chinese SF in translation, check out Broken Stars.

Stories:
"The Year of the Rat" by Chen Qiufan
"The Fist of Lijian" by Chen Qiufan
"The Flower of Shazui" by Chen Qiufan
"A Hundred Ghosts Parade Tonight" by Xia Jia
"Tongtong's Summer" by Xia Jia
"Night Journey of the Dragon-Horse" by Xia jia
"The City of Silence" by Ma Boyong
"Invisible Planets" by Hao Jingfang
"Folding Beijing" by Hao Jingfang
"Call Girl" by Tang Fei
"Grave of the Fireflies" by Cheng Jingbo
"The Circle" by Liu Cixin
"Taking Care of God" by Liu Cixin

Essays:
"The Worst of All Possible Universes and the Best of All Possible Earths: Three-Body and Chinese Science Fiction" by Liu Cixin and Ken Liu
"The Torn Generation" Chinese Science Fiction in a Culture in Transition" by Chen Qiufan and Ken Liu
"What Makes Chinese Science Fiction Chinese?" by Xia Jia and Ken Liu
About the Author
Ken Liu's fiction has appeared in F&SF, Asimov's, Analog, Strange Horizons, Lightspeed, and Clarkesworld, among other places. He is the author of The Grace of Kings, and has won a Nebula, two Hugos, a World Fantasy Award, and a Science Fiction & Fantasy Translation Award, and been nominated for the Sturgeon and the Locus Awards. He edited and translated the Chinese science fiction anthology Invisible Planets. He lives near Boston with his family.
Praise For Invisible Planets: Contemporary Chinese Science Fiction in Translation…
"Vibrant collection... these are tales rich with lush language, inventive premises, and heartbreaking storytelling." —Mary Robinette Kowal

"These stories, along with the rest of the anthology, represent the best in both science fiction and works in translation, detailing situations that appear alien on the surface but deftly reframe contemporary issues to give readers a new view of familiar human experiences.A phenomenal anthology of short speculative fiction." —Kirkus Reviews, starred review

"Greatly varied in theme and approach, all of these stories impress with their visionary sweep and scope...superb compilation." —Publishers Weekly, starred review

"With stories ranging over social control, world-building rats and redundant robots who have outlived the humans who made them, this is a collection that will stimulate and delight" —Daily Mail


'A wonderful collection, it's thoughtful and entertaining fiction that as a western reader opens your eyes to science fiction written by a different, rich culture. My favourite short story collection of the year" —SF Book Reviews

"Dreamlike and hypnotic, evocative and inspiring'" —The Bookbag

"There is fabulous variety in this book, ranging from hard Science Fiction to near-future social Science Fiction ... a fine collection" —SF Crowsnest