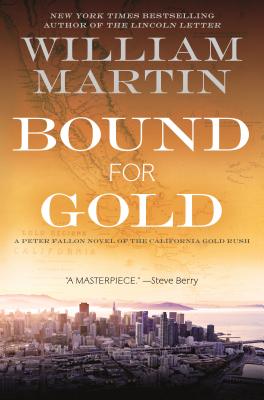 Bound for Gold
A Peter Fallon Novel of the California Gold Rush (Peter Fallon and Evangeline Carrington #6)
Hardcover

* Individual store prices may vary.
Other Editions of This Title:
Mass Market (10/29/2019)
MP3 CD (10/29/2019)
Compact Disc (10/29/2019)
Description
Rare-book dealer Peter Fallon returns in a thrilling historical novel about the California Gold Rush, by New York Times bestselling author William Martin

Bound for Gold continues New York Times bestselling author William Martin's epic of American history with the further adventures of Boston rare-book dealer Peter Fallon and his girlfriend, Evangeline Carrington. They are headed to California, where their search for a lost journal takes them into the history of Gold Rush. The journal follows young James Spencer, of the Sagamore Mining Company, on a spectacular journey from staid Boston, up the Sacramento River to the Mother Lode. During his search for a "lost river of gold," Spencer confronts vengeance, greed, and racism in himself and others, and builds one of California's first mercantile empires.
In the present, Peter Fallon's son asks his father for help appraising the rare books in the Spencer estate and reconstructing Spencer's seven-part journal, which has been stolen from the California Historical Society. Peter and Evangeline head for modern San Francisco and quickly discover that there's something much bigger and more dangerous going on, and Peter's son is in the middle of it. Turns out, that lost river of gold may be more than a myth.
Past and present intertwine as two stories of the eternal struggle for power and wealth become one.
Praise For Bound for Gold: A Peter Fallon Novel of the California Gold Rush (Peter Fallon and Evangeline Carrington #6)…
"Boston meets San Francisco, again, and the echoes of the first collision rumble down the decades to shape the rematch in this rollicking epic tale of the California Gold Rush, modern mayhem, and the mysteries that haunt families for generations. History brought to life, and the keen Martin eye to both." —H.W. Brands, author of The Age of Gold and the Pulitzer-nominated Franklin
"Plenty of skullduggery and labyrinths of mystery lace this gem about the California gold rush. The prose and plot are as sharp as a broken piece of glass. Another masterpiece from the master of historical fiction." —Steve Berry, New York Times bestselling author
"In the tradition of James Michener, this epic about the California gold rush (and a parallel modern one) is wonderfully engrossing and addictive. William Martin made me believe I was on the banks of those rugged mountain streams, panning for the dust that dreams are made of and lives are lost to. Ambitious, exciting, and vividly researched. A twenty-four karat read." —David Morrell, New York Times bestselling author of Murder As a Fine Art
"Epic in scale, eloquent in execution, Bound for Gold is a pure delight. The great Forty-Niner gold rush comes to vivid life in William Martin's skillful, suspenseful, and original retelling, and its resonance into the present is nothing short of mesmerizing." —John Lescroart, New York Times bestselling author
"The purest gold for readers! William Martin has always been a fine craftsman and a marvelous storyteller, and this tale of the "Golden West" when the gold was real in the hand is fiction at its most enthralling. Framed by a sharply drawn portrait of today, this saga of men struggling over fortunes almost two centuries ago in a rugged and raw America—and their long shadows—is just plain great." —Ralph Peters, New York Times bestselling author of Judgment at Appomattox
"Fans of rare book dealer Peter Fallon, rejoice—he's back (with lady friend Evangeline Carrington, of course), unearthing family skeletons from the Gold Rush. Historic fact intertwines with vibrant fiction in this timely and relevant novel." —Susan Elia MacNeal, New York Times bestselling author of the Maggie Hope novels
"Bound for Gold is grand adventure, an epic saga of American gold fever in both history and the present day. Peter Fallon is still at the top of his game. Bravo." —Joseph Finder, New York Times bestselling author of Judgment and The Switch
Forge Books, 9780765384218, 496pp.
Publication Date: July 3, 2018
About the Author
New York Times bestselling author William Martin is best known for his historical fiction, which chronicles the lives of the great and the anonymous in American history while bringing to life legendary American locations, from Cape Cod to Annapolis to The City of Dreams. His first novel, Back Bay, introduced Boston treasure hunter Peter Fallon, who is still tracking artifacts across the landscape of our national imagination. Martin's subsequent novels, including Harvard Yard, Citizen Washington, and The Lost Constitution have established him as a "storyteller whose smoothness matches his ambition" (Publishers Weekly). He has also written an award-winning PBS documentary and a cult classic horror movie. He was the recipient of the 2005 New England Book Award, given to "an author whose body of work stands as a significant contribution to the culture of the region," and in 2015 he won the Samuel Eliot Morison Award for four decades of bringing history to life. He and his wife live near Boston, the city that his recurring character, Peter Fallon, also calls home, and he has three grown children.
or
Not Currently Available for Direct Purchase