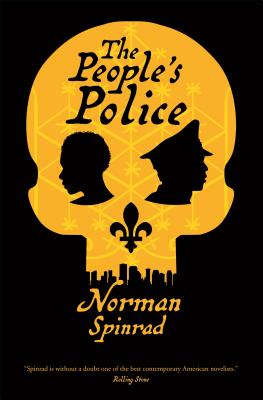 The People's Police
A Novel
Hardcover

* Individual store prices may vary.
Description
Norman Spinrad, a National Book Award finalist for his short fiction collection The Star-Spangled Future, has now written The People's Police, a sharp commentary on politics with a contemporary, speculative twist. Martin Luther Martin is a hard-working New Orleans cop, who has come up from the gangland of Alligator Swamp through hard work. When he has to serve his own eviction notice, he decides he's had enough and agrees to spearhead a police strike.
Brothel owner and entrepreneur J. B. Lafitte also finds himself in a tight spot when his whorehouse in the Garden District goes into foreclosure. Those same Fat Cats responsible for the real estate collapse after Katrina didn't differentiate between social strata or vocation.
MaryLou Boudreau, aka Mama Legba, is a television star and voodoo queen—with a difference. The loa really do ride and speak through her.
These three, disparate people are pulled together by a single moment in the television studio when Martin, hoping for publicity and support from the people against the banks, corporate fat cats, and corrupt politicians. But no one expects Papa Legba himself to answer, and his question changes everything.
"What do you offer?"
Praise For The People's Police: A Novel…
Praise for The People's Police
"A voice of thunder...No one could ever call Mr. Spinrad moderate, but over the decades he has shown himself a hard guy to argue with. And devastatingly funny as well." —The Wall Street Journal

"Spinrad keeps the action swift and raises some provocative issues of police-community relations along the way." —Chicago Tribune
"When it comes to raw, on-the-edge science fiction, Norman Spinrad's The People's Police is the real thing!" —Amazing Stories
"An incisive satire that conveys the special circumstances of New Orleans in today's America, with a clever twist of voodoo magic and humor." —Booklist

"With a sympathetic eye for all human foibles and aspirations, Spinrad, employing the same sharp satiric scalpel used by Tom Wolfe at his best, delivers parables and parodies of our uncivil civic sphere." —Locus

"The People's Police is bound to rub some readers the wrong way as well. Then again, it wouldn't be a good satire if it didn't."—Rob Weber, Val's Random Comments

"Don't expect conventional Science Fiction but if you want to read a slice of life, this is a good example to try."—SF Crowsnest

"Spinrad is a philosophic game changer."—Pick of the Literate

"This is vintage Spinrad, wild and wacky."—Robert McGrath
"Two hundred years ago the Marquis de Sade imagined a new kind of utopia, in which liberty, equality, and fraternity had been achieved through sexual and moral mayhem. Norman Spinrad has updated Sade's vision (minus the sadism) . . . The People's Police is a big, Fat-Tuesday carnival of a book." —Paul Park, author of All Those Vanished Engines
"Norman Spinrad takes on Louisiana politics, bare-knuckle persuasion, and some Big Easy voodoo in The People's Police. This is a terrific take on a near-future New Orleans where the political climate is as warmed as the weather as the working class takes on the political elite." —Rick Wilber author of Alien Morning
Praise for Norman Spinrad
"Norman Spinrad, like his characters, takes great risks; the rewards for readers willing to meet him halfway are commensurate." —The New York Times Book Review
"Norman Spinrad, one of the sacred heroes of my coming-of-age as a writer, has never quit redefining his role as dissident and sage—he's that most miraculous of creatures, a utopianist's dystopianist." —Jonathan Lethem, New York Times bestselling author
Tor Books, 9780765384270, 288pp.
Publication Date: February 7, 2017
About the Author
Norman Spinrad is a science fiction icon and the author of more than twenty novels which have been translated into over a dozen languages. His 1969 novel, Bug Jack Barron, was nominated for the Hugo and Nebula Awards and his short fiction collection, The Star-Spangled Future, was a National Book Award finalist. He has also written screenplays for American television series, including the original Star Trek. He lives in New York.
or
Not Currently Available for Direct Purchase