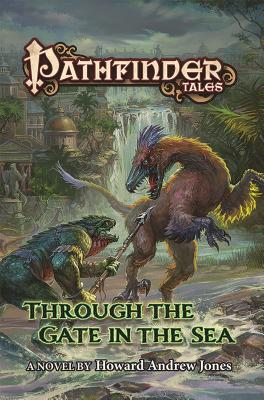 Pathfinder Tales
Through The Gate in the Sea
Paperback

* Individual store prices may vary.
Description
Deepwater salvager Mirian Raas and her bold crew may have bought their nation's freedom with a hoard of lost lizardfolk treasure, but their troubles are only just beginning in this sequel to Beyond the Pool of Stars.

When Mirian's new lizardfolk companions, long believed to be the last of their tribe, discover hints that their people may yet survive on a magical island, the crew of the Daughter of the Mist is only too happy to help them venture into uncharted waters. Yet the perilous sea isn't the only danger, as the devil-worshiping empire of Cheliax hasn't forgotten its defeat at Mirian's hands, and far in the east, an ancient, undead child-king has set his sights on the magical artifact that's kept the lost lizardfolk city safe all these centuries.

Pathfinder is the world's bestselling tabletop role-playing game—now adapted as a series of novels.
Tor Books, 9780765384386, 352pp.
Publication Date: February 21, 2017
About the Author
When not helping run his small family farm or spending time with his amazing wife and children, HOWARD ANDREW JONES can be found hunched over his laptop or notebook, mumbling about flashing swords and doom-haunted towers. His novels include The Chronicles of Sword and Sand (The Desert of Souls, The Waters of Eternity, The Bones of the Old Ones) and several Pathfinders Tales.

Jones has worked variously as a TV cameraman, a book editor, a recycling consultant, and a college writing instructor. He assembled and edited Bison Books's collections of Harold Lamb's historicals for the University of Nebraska Press, and served as Managing Editor of Black Gate. He edits the sword-and-sorcery magazine Tales From the Magician's Skull, and serves as Executive Editor of the Perilous Worlds book imprint.
Paizo Inc. is a leading publisher of fantasy roleplaying games, accessories, board games, and novels. Paizo Publishing has received more than 50 major awards and has grown to become one of the most influential companies in the hobby games industry.
or
Not Currently Available for Direct Purchase