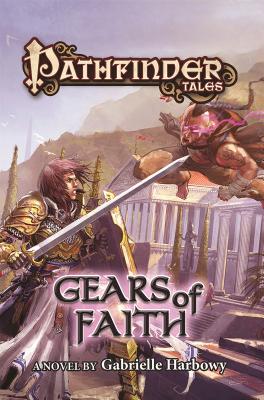 Pathfinder Tales
Gears of Faith
Paperback

* Individual store prices may vary.
Description
Pathfinder is the world's bestselling tabletop role-playing game—now adapted as a series of novels.

Keren is a sworn knight of Iomedae, proper and disciplined in every way. Her girlfriend, Zae, is the opposite—a curious gnome cleric of the clockwork god, who loves nothing more than the chaos of her makeshift hospitals. When a powerful evil artifact is stolen from a crusader stronghold, both knight and gnome are secretly sent to the great city of Absalom to track down the stolen bloodstone.

Sure, they may not be the most powerful or experienced members of their organizations, but that's the whole point—with legendary champions and undead graveknights battling at every turn in their race to recover the stone, who'll notice one young knight and her gnome? All they have to do is stay alive long enough to outsmart a thief capable of evading both gods and heroes.
Tor Books, 9780765384409, 288pp.
Publication Date: April 4, 2017
About the Author
GABRIELLE HARBOWY has edited for publishers such as Pyr, Lambda Literary, and Circlet Press, as well as writing Pathfinder novels for Paizo, distributed by Tor Books. She is the managing editor at Dragon Moon Press and a submissions editor at the Hugo-nominated Apex Magazine. With Ed Greenwood, she co-edited the award-nominated When the Hero Comes Home anthology series and Women in Practical Armor. Her short fiction can be found in such anthologies as Carbide Tipped Pens from Tor.

Paizo Inc. is a leading publisher of fantasy roleplaying games, accessories, board games, and novels. Paizo Publishing has received more than 50 major awards and has grown to become one of the most influential companies in the hobby games industry.
or
Not Currently Available for Direct Purchase