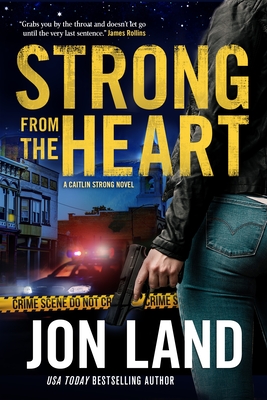 Strong from the Heart
A Caitlin Strong Novel (Caitlin Strong Novels #11)
Hardcover

* Individual store prices may vary.
Description
Caitlin Strong wages her own personal war on drugs against the true power behind the illicit opioid trade in Strong from the Heart, the blistering and relentless 11th installment in Jon Land's award-winning series.

The drug crisis hits home for fifth generation Texas Ranger Caitlin Strong when the son of her outlaw lover Cort Wesley Masters nearly dies from an opioid overdose. On top of that, she's dealing with the inexplicable tragedy of a small Texas town where all the residents died in a single night.

When Caitlin realizes that these two pursuits are intrinsically connected, she finds herself following a trail that will take her to the truth behind the crisis that claimed 75,000 lives last year. Just in time, since the same force that has taken over the opiate trade has even more deadly intentions in mind, specifically the murder of tens of millions in pursuit of their even more nefarious goals.

The power base she's up against—comprised of politicians and Big Pharma, along with corrupt doctors and drug distributors—has successfully beaten back all threats in the past. But they've never had to deal with the likes of Caitlin Strong before and have no idea what's in store when the guns of Texas come calling.

At the root of the conspiracy lies a cabal nestled within the highest corridors of power that's determined to destroy all threats posed to them. Caitlin and Cort Wesley may have finally met their match, finding themselves isolated and ostracized with nowhere to turn, even as they strive to remain strong from the heart.

"Caitlin Strong is my kind of gal!" —Lisa Scottoline, New York Times bestselling author
Praise For Strong from the Heart: A Caitlin Strong Novel (Caitlin Strong Novels #11)…
"A time-jumping, savory Tex-Mex tale, seasoned with all the ingredients of a great thriller."—Brad Meltzer, New York Times bestselling author

"Don't make any plans for tomorrow, people. You're not going anywhere until you finish this book. And you'll need time to catch your breath, too."—New York Review of Books

"A cross between Wild Bill Hickok and Wonder Woman."—Associated Press

"From Gatling guns to hidden chambers, pill mills to verdant poppy fields, this will keep you on the edge of your seat. You're in for a rollicking, riotous and riveting ride."—Providence Journal

"A spell-binding tapestry . . . that will linger in the back of your mind for weeks, if not months, after you have finished reading it."—Suspense Magazine

"Land's best effort ever, a thriller that had me riveted from start to end. With this book he stands shoulder to shoulder with Child, Connelly, Gardner and Gerritsen."—Strand Magazine

"Caitlin is a strong, complex woman, not afraid to show her feelings. This fast-paced mystery/thriller will have readers holding their breath for pages."—Kings River Life Magazine

"A satisfying blend of suspense, action, mystery, and heart."—BookTrib

"Land is a master storyteller, with a talent for constructing multi-dimensional puzzles with words." —Lone Star Literary Life

"This is the best thriller of the year."—Bestsellersworld

"Caitlin Strong is my kind of gal!"—Lisa Scottoline, New York Times bestselling author

"Fans of the series will be more than happy to indulge in all its trimmings. A sprawling return to well-worn paths. "—Kirkus Reviews

"[A] very timely novel in which the good guys are in short supply and drastically underfunded compared to their adversaries. A fine entry in an excellent series."—Booklist

"A mind-blowing tale that takes a flamethrower to our psyches to warm the chill it leaves up our spines. Seething with energy and replete with wondrously staged set pieces, this is thriller writing that defies genre even as it reminds us why we love to read."—NYK Daily

"Exceptional.... Snappy one-liners, plausible dialogue, and lots of nonstop action, Land delivers another riveting, believable thriller."—Press-Republican

"With non-stop action . . . and stakes that are life or death at every corner, Strong from the Heart is an absolute must-read thriller."—LimaCharlieReviews

"Caitlin Strong is one of the strongest female characters ever to hit the page, and Jon Land is the king of the intelligent thriller, continually pushing his own writing to new levels."—New York Journal of Books

"[Land] is one of the best action thriller writers in the business."—RT Book Reviews
Forge Books, 9780765384706, 368pp.
Publication Date: July 28, 2020
About the Author
Jon Land is the USA Today bestselling author of more than fifty books, over ten of which feature Texas Ranger Caitlin Strong. The critically acclaimed series has won more than a dozen awards, including the 2019 International Book Award for Best Thriller for Strong as Steel. He is also the author of Chasing the Dragon, a detailed account of the War on Drugs written with one of the most celebrated DEA agents of all time. A graduate of Brown University, Land lives in Providence, Rhode Island and received the 2019 Rhode Island Authors Legacy Award for his lifetime of literary achievements.
or
Not Currently Available for Direct Purchase