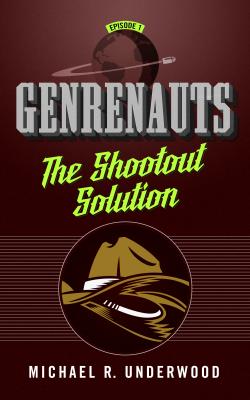 The Shootout Solution (Paperback)
Genrenauts Episode 1
St. Martins Press-3pl, 9780765385321, 164pp.
Publication Date: November 17, 2015
Description
When Stories Break, You Send in the Genrenauts.
Struggling stand-up comic Leah Tang is offered a once-in-a-lifetime chance to join the Genrenauts, a secret organization of dimensional travelers. Leah learns that our world is just one of many, and every other world is the home of a story genre -- Science Fiction or Romance, Fantasy or Western -- populated by archetypal characters and constantly playing out familiar stories.
The Genrenauts' mission: find and fix broken stories. If they fail, the ripples from the story worlds will cause havoc and devastation on their home world.
Leah joins the team as they travel to Western World to stop a bandit posse on the rampage. But the Western's hero isn't interested in winning, and the safety of Earth hangs in the balance...
The first episode of the exciting science fiction novella series. If you like Leverage, Redshirts, or Quantum Leap, check out Genrenauts for a brand-new adventure.
PRAISE FOR THE SHOOTOUT SOLUTION
"If you like the TV show Leverage or the books of Jasper Fforde, Genrenauts is absolutely the series for you. Exploring genre tropes while saving the world has never been more fun." -- Between the Covers

"Who hasn't wanted to imagine themselves parachuting into a story gone wrong and putting it back on track? It's storytelling as heroism, genre savviness as power. Endless fun. Catnip for genre geeks." -- Marie Brennan, World Fantasy nominated author of A Natural History of Dragons
"A clever, exciting, and seriously fun twist on portal fantasy that sends a geeky stand-up comedian into the Wild West. Sign me up to be a Genrenaut, too " --Delilah S. Dawson, author of the Blud series and Hit
Advertisement