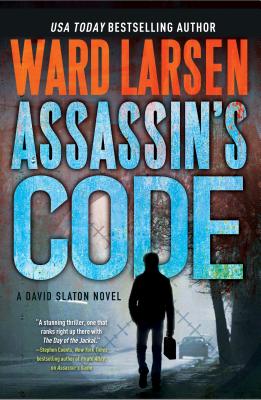 Assassin's Code (Hardcover)
A David Slaton Novel
Forge Books, 9780765385802, 368pp.
Publication Date: August 22, 2017
Other Editions of This Title:
Digital Audiobook (8/21/2017)
Mass Market (6/26/2018)
CD-Audio (8/22/2017)
* Individual store prices may vary.
Description
Step aside, Jason Bourne: David Slaton, the perfect assassin, returns for another adrenaline-packed adventure by USA Today bestselling author Ward Larsen in Assassin's Code.
Former assassin David Slaton discovers a cryptic message: on a memory stick, a photograph of the man who will soon assume command of DGSI, France's elite counterterrorism force. With that country reeling under a wave of ISIS attacks, Zavier Baland will be trusted to make the Republic safe again. The problem—Slaton has seen Baland's face before. He is Ali Samir, a terrorist Slaton is certain he killed fifteen years earlier. Unable to reconcile this frightening disconnect, he attempts to raise the alarm.
Thousands of miles away, the chief information officer of ISIS tries to keep networks running amid crumbling infrastructure. With the caliphate's very survival at stake, the leadership commits to a last-ditch gambit: France must be attacked on a massive scale, forcing the West into the battle of the Apocalypse.
Slaton keeps a breakneck pace, traveling to Tel Aviv, Paris, and the deserts of Syria. In the end he uncovers a labyrinthine plot—and one that only he can stop.
David Slaton Novels
The Perfect Assassin
Assassin's Game
Assassin's Silence
Assassin's Code
About the Author
WARD LARSEN is a USA Today bestselling author and three-time winner of the Florida Book Award. His work has been nominated for both the Edgar and Macavity Awards. A former US Air Force fighter pilot, Larsen flew more than twenty missions in Operation Desert Storm. He also served as a federal law enforcement officer and is a trained aircraft accident investigator. Look for Amber Entertainment's film adaptation of Larsen's first thriller, The Perfect Assassin.
Praise For Assassin's Code: A David Slaton Novel…
"Highly reminiscent of Robert Ludlum's Jason Bourne series!"
—David Hagberg, New York Times bestselling author
"A must-read for anyone looking for the next great assassin saga."
—Kirkus Reviews on Assassin's Game
"The action-filled, high-octane thriller that you have been waiting for. Ward Larsen delivers enough page turning suspense and globe-spanning action for ten novels."
—William Martin, New York Times bestselling author, on Assassin's Silence
"A superbly written story."
—Larry Bond, New York Times bestselling author, on Assassin's Game
"Slaton is the perfect assassin, and this is the perfect action-adventure thriller."
—Booklist, starred review, on Assassin's Silence
"A stunning thriller, one that ranks right up there with Day of the Jackal. Frankly, this is the best nail-biting suspense novel I've read in years."
—Stephen Coonts, New York Times bestselling author of The Art of War, on Assassin's Game
"Sharp as a dagger and swift as a sudden blow, Assassin's Game is a first-rate thriller with a plot that grabs you hard and won't let go."
—Ralph Peters, New York Times bestselling author, on Assassin's Game
or
Not Currently Available for Direct Purchase