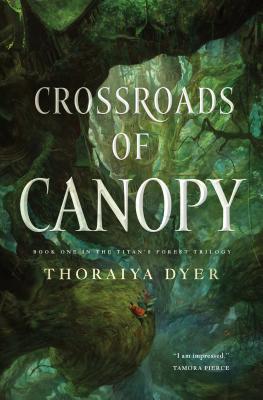 Crossroads of Canopy (Hardcover)
A Titan's Forest novel
Tor Books, 9780765385925, 336pp.
Publication Date: January 31, 2017
Other Editions of This Title:
Digital Audiobook (1/30/2017)
Paperback (2/6/2018)
* Individual store prices may vary.
Description
The highly-anticipated fantasy debut from Aurealis and Ditmar Award-winning author Thoraiya Dyer, set in a giant mythical rainforest controlled by living gods
"I am impressed. A unique, gorgeous, and dangerous world, a stubborn female hero, and a writer to watch!" – Tamora Pierce
Unar dreams of greatness.
But achieving greatness is more difficult than she thinks.
Her hopes rest on becoming the next bodyguard to Audblayin, the rain forest's divine ruler of growth and fertility. But to earn that title, Unar must embark on a dangerous quest into the shadowy depths beneath the treetops. Down below, she must confront enemy tribesmen, battle notoriously giant monsters, and master frightening new magic.
Most importantly, Unar must forget all the truths she had sworn her life to uphold… and be willing to risk destroying the very home she loves to seize her destiny.
"An engaging and beautifully wrought coming-of-age story." —Herald Sun (Australia)
About the Author
THORAIYA DYER is an Australian writer whose more than 30 short stories, as well as a novella and short fiction collection published since 2008 have racked up 7 wins from 17 Aurealis and Ditmar Award nominations between them. Her debut fantasy TITAN'S FOREST TRILOGY is published by Tor Books.
Praise For Crossroads of Canopy: A Titan's Forest novel…
"Sydney's Thoraiya Dyer is an accomplished writer of short stories and her skills successfully make the leap into the complex fantasy world of this, her debut novel....The story unfolds slowly as Dyer parts the leaves of her world and allows Unar's ambitions to germinate. The society and environment are wonderfully depicted in what is an engaging and beautifully wrought coming-of-age story." —Herald Sun (Australia)
"Readers will be delighted by Dyer's polished prose and an exquisite new world of intricate mythology, rituals, and politics."—Publishers Weekly, Starred Review
"Dyer writes with accomplished ease, her prose style evocative without beingneedlessly ornate....All in all, Crossroads of Canopy is an incrediblyaccomplished debut, and one I thoroughly recommend."— Strange Horizons
"I am majorly impressed with Thoraiya Dyer's Crossroads of Canopy. A unique, gorgeous, and dangerous world, a stubborn female hero, and a writer to watch!"—Tamora Pierce
"A glorious botanical quest fantasy. Crossroads of Canopy is everything I hoped for of a Thoraiya Dyer novel — vivid worldbuilding, complex characters and an evil sense of humour. It's rare to find an epic fantasy that's so radically different to anything else out there, so treasure this book, grubs and all." —Hugo and Ditmar Award-winning author Tansy Rayner Roberts
"For her striking first novel Crossroads of Canopy, Thoraiya Dyer reworks the stuff of epic fantasy in ways that seem organic, rooted in the natural world but just as true to human experience." —Locus magazine
"Recommended for readers who appreciate nuanced world building, as both Canopy and Understorey are
strange, fleshed-out lands thrown into turmoil."—Booklist
"Crossroads of Canopy has everything you expect from a great epic—quests, fearless warriors, gods born again—but all is transmuted, through the rich and vivid original setting, into something entirely new." —Brian Staveley, author of The Last Mortal Bond
"Dyer presents a rich, brutal, fascinating world and an unforgettable heroine." —Ilana C. Myer, author of Last Song Before Night
"A remarkable debut. What a delight to read a fantasy so different from the mainstream and so beautifully realised." —Juliet Marillier, winner of the Aurealis Award and the Alex Award
"A stunningly original debut fantasy set in a lush and deadly treetop realm, amidst the kingdoms of thirteen relentlessly reincarnated gods, where disobedience is punished by a draining of magic and nobody lives who falls." —Cat Sparks, author of Lotus Blue

"Imaginative, original, inclusive – and fast-paced and exciting. Go get it and read it. Maybe twice." —Pamela Freeman, author of The Castings Trilogy
"Dyer's writing seamlessly melds a lush and layered canopy setting and a complex magical culture to form a unique fantasy world, filled with memorable characters in constant jeopardy. Unar, a girl on the brink of womanhood, is at the heart of the tale. Feisty, opinionated, certain of her own destiny, she's a tough flawed heroine, one readers will not easily forget." —Glenda Larke, author of The Stormlord Trilogy and The Forsaken Lands Trilogy
"Dyer is a writer of immense talent. Her powerful, distinctive voice makes Crossroads of Canopy a fully immersive read, so well-written and believable it will have you checking to see if the realms of Canopy, Understorey and Floor really exist." —Kaaron Warren, author of Walking the Tree
"Thoraiya Dyer has woven a world of gods and magic, a merciless forest where the slightest misstep can send the unwary, the unworthy, or the simply unfortunate plunging to an unremarked doom. Guiding us through the heights of this remarkable place is a young woman, Unar. Scrappy, complex and surprisingly compassionate, she must fight to establish a place for herself among the trees. If Crossroads of Canopy explores the cost of caring, it also examines the even higher price of indifference. It is a riveting novel." —A.M. Dellamonica, author of A Daughter of No Nation
"A wonderful, magical, poetic, tragic novel...a major achievement." —Jenny Blackford, World Fantasy Award judge, author of The Priestess and the Slave
"The book is quite marvelous. Tons of cultural richness. Complex and casually cruel...Thoraiya Dyer is the writer I most want to infect people with." —Anna Tambour, World Fantasy Award-shortlisted author of Crandolin
or
Not Currently Available for Direct Purchase