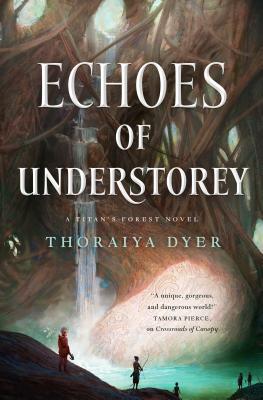 Echoes of Understorey (Paperback)
A Titan's Forest Novel
Tor Books, 9780765385956, 352pp.
Publication Date: February 13, 2018
Description
Return to the mythical rainforest ruled by reincarnated gods in the quest fantasy Echoes of Understorey, part of Thoraiya Dyer's extraordinary Titan's Forest high fantasy series

Great deeds are expected of Imeris.
Raised by accomplished warriors and skilled healers, and being the sister to a goddess, Imeris always felt pressured to be the best fighter in Understorey. Yet during a mission to capture the body-snatching sorceress Kirrik, Imeris fails disastrously. With death on her conscience and in hiding from her peers, Imeris climbs up to the sun-kissed world of Canopy to learn new ways to defeat Kirrik. What she doesn't expect is to be recruited in a Hunt for the Ages, against a terrifying divine monster that will take all of her skills to stop.
"I am majorly impressed. A unique, gorgeous, and dangerous world "--Tamora Pierce
About the Author
THORAIYA DYER is a four-time Aurealis Award-winning, three-time Ditmar Award-winning Australian writer based in Sydney. Her stories have appeared in Clarkesworld, Apex, Analog, Redstone SF, Nature and Cosmos magazines, and anthologies, including War Stories, Long Hidden, and Cranky Ladies of History. Echoes of Understorey is the second book in the Titan's Forest series, which began with Crossroads of Canopy.
Advertisement