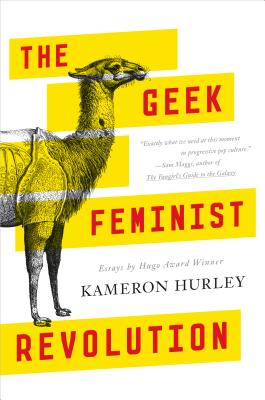 The Geek Feminist Revolution (Hardcover)
Tor Books, 9780765386236, 272pp.
Publication Date: May 31, 2016
Other Editions of This Title:
Paperback (5/31/2016)
CD-Audio (5/3/2016)
* Individual store prices may vary.
Description
The Geek Feminist Revolution is a collection of essays by double Hugo Award-winning essayist and fantasy novelist Kameron Hurley.
The book collects dozens of Hurley's essays on feminism, geek culture, and her experiences and insights as a genre writer, including "We Have Always Fought," which won the 2013 Hugo for Best Related Work. The Geek Feminist Revolution will also feature several entirely new essays written specifically for this volume.
Unapologetically outspoken, Hurley has contributed essays to The Atlantic, Locus, Tor.com, and others on the rise of women in genre, her passion for SF/F, and the diversification of publishing.
About the Author
Kameron Hurley is the author of the novels God's War, Infidel, and Rapture a science-fantasy noir series which earned her the Sydney J. Bounds Award for Best Newcomer and the Kitschies Award for Best Debut Novel. She has won the Hugo Award (twice), and been a finalist for the Nebula Award, the Clarke Award, the Locus Award, and the BSFA Award for Best Novel. Her most recent novel is the epic fantasy The Mirror Empire. The sequel, Empire Ascendant, will be out in October 2015. She writes regularly for Locus Magazine.
Praise For The Geek Feminist Revolution…
"An incisive, opinionated, and demanding blend of analysis and personal storytelling that will inspire her readers and peers in the science fiction community to work toward change." —Publishers Weekly, starred review
"Plenty of inspiration here for promising writers and for young women drawn to a culture where sexism is rife.... Passion and commitment permeate the writing as Hurley illuminates the online cultural vanguard from a feminist's perspective." —Kirkus Reviews
"A call to arms for those who care about the future of science fiction and fantasy." —John Scalzi, author of The Old Man's War

"Hurley writes with passion, power, and raw, unapologetic honesty. Her essays are both blunt and thoughtful, and will give you a great deal to ponder about the speculative fiction genre and the world at large." —Jim C. Hines, author of the Goblin Quest series?
"Kameron Hurley writes essays about feminism, geek culture, online discourse, and changing the world that piss people off, make them think, make them act. This is good stuff. Read it."—Kate Elliott, author of Black Wolves
"The Geek Feminist Revolution is is an essential book for working and aspiring authors. It's part writing advice, part call to revolution, part manual for how to be a writer and an activist and a loudmouth even when (especially when) you're not a straight, white, cisgender man. This book is the next step in the conversation about how to write the Other. It's also about how to challenge mainstream nonsense when you're 'the Other,' even when you're desperately pretending not to be. Hurley's essays are a beacon, signaling to writers in the trenches that they're not alone, and they're not imagining how hard it is to push against the mainstream, or how the culture shoves back ten times harder." —K Tempest Bradford
"Listen, and understand: Kameron is out there. She can't be talked over. She can't be sidelined, ignored, or shut down. And she absolutely will not stop, ever, until things change. "—Seth Dickinson, author of The Traitor Baru Cormorant
"Kameron Hurley's a brave, unflinching, truly original writer with a unique vision-her fiction burns right through your brain and your heart." —Jeff VanderMeer, New York Times Bestselling Author of The Southern Reach Trilogy
or
Not Currently Available for Direct Purchase