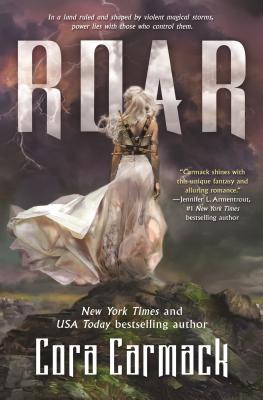 Roar
A Stormheart Novel
Hardcover

* Individual store prices may vary.
Description
New York Times bestselling author Cora Carmack's young adult debut: Roar.

In a land ruled and shaped by violent magical storms, power lies with those who control them.

Aurora Pavan comes from one of the oldest Stormling families in existence. Long ago, the ungifted pledged fealty and service to her family in exchange for safe haven, and a kingdom was carved out from the wildlands and sustained by magic capable of repelling the world's deadliest foes. As the sole heir of Pavan, Aurora's been groomed to be the perfect queen. She's intelligent and brave and honorable. But she's yet to show any trace of the magic she'll need to protect her people.

To keep her secret and save her crown, Aurora's mother arranges for her to marry a dark and brooding Stormling prince from another kingdom. At first, the prince seems like the perfect solution to all her problems. He'll guarantee her spot as the next queen and be the champion her people need to remain safe. But the more secrets Aurora uncovers about him, the more a future with him frightens her. When she dons a disguise and sneaks out of the palace one night to spy on him, she stumbles upon a black market dealing in the very thing she lacks—storm magic. And the people selling it? They're not Stormlings. They're storm hunters.

Legend says that her ancestors first gained their magic by facing a storm and stealing part of its essence. And when a handsome young storm hunter reveals he was born without magic, but possesses it now, Aurora realizes there's a third option for her future besides ruin or marriage. She might not have magic now, but she can steal it if she's brave enough.

Challenge a tempest. Survive it. And you become its master.
Praise For Roar: A Stormheart Novel…
"I am typically not a fantasy reader, but Roar convinced me to read more. Cora Carmack created a beautiful world and I felt like I was transported to Pavan with her vivid descriptions of the city. I was left wanting more and I can't to find out what happens with the rest of her characters."—Chelsea Riela, New York Public Library

"In her electrifying YA debut Roar, Cora Carmack creates a stormy fantasy full of adventure featuring a charismatic ensemble cast. Roar introduces YA readers to Cora's signature talent for balancing authentic characters and a captivating romance, this time set in a striking new world that will sweep readers away."—Mary Hinson, Irving Public Library and Mary Had A Little Book Blog
Tor Teen, 9780765386311, 384pp.
Publication Date: June 13, 2017
About the Author
Cora Carmack has done a multitude of things in her life–boring jobs (retail), fun jobs (theatre), stressful jobs (teaching), and dream jobs (writing). Raised in a small Texas town, she now lives in New York City and Texas, and spends her time writing, traveling, and marathoning various television shows on Netflix. Her first book, Losing It, was a New York Times and USA Today bestseller, and her subsequent books were also hits.
or
Not Currently Available for Direct Purchase