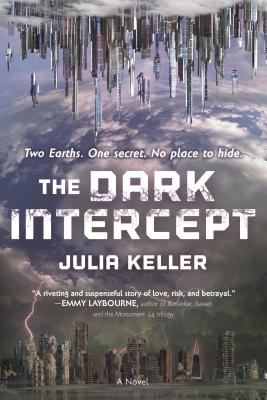 The Dark Intercept (Hardcover)
Tor Teen, 9780765387622, 320pp.
Publication Date: October 31, 2017
Other Editions of This Title:
Paperback (11/13/2018)
* Individual store prices may vary.
Description
The Dark Intercept by Julia Keller is the beginning of a "riveting" (Emmy Laybourne) science fiction adventure that challenges the voluntary surrender of liberties for the perception of safety.
When the state controls your emotions, how hard will you fight to feel free?
In a radiant world of endless summer, the Intercept keeps the peace. Violet Crowley, the sixteen-year-old daughter of New Earth's Founding Father, has spent her life in comfort and safety. Her days are easy thanks to the Intercept, a crime-prevention device that monitors emotion. But when her long-time crush, Danny Mayhew, gets into a dangerous altercation on Old Earth, Violet launches a secret investigation to find out what he's hiding. An investigation that will lead her to question everything she's ever known about Danny, her father, and the power of the Intercept.
Much like the device itself, The Dark Intercept will get under your skin.
"The Dark Intercept grabbed me from the first page and shook me until the last." —Emmy Laybourne, author of Berserker, Sweet, and the Monument 14 trilogy
"A rare, literary feat." —Gennifer Albin, New York Times bestselling author of the Crewel World trilogy
The Dark Intercept is a Library and Information Technology Association (LITA) Excellence in Children's and Young Adult Science Fiction Notable List selection!
About the Author
Julia Keller, winner of the Pulitzer Prize and former cultural critic at the Chicago Tribune, is the author of many books for adults and young readers, including A Killing in the Hills, the first book in the Bell Elkins series and winner of the Barry Award for Best First Novel (2013); Back Home; and The Dark Intercept. Keller has a Ph.D. in English literature from Ohio State and was awarded Harvard University's Nieman Fellowship. She was born in West Virginia and lives in Ohio.
Praise For The Dark Intercept…
"A dazzling, thought-provoking vision of the future that raises the question: Is safety worth the sacrifice of freedom?" —Booklist
"The Dark Intercept grabbed me from the first page and shook me until the last. A riveting and suspenseful story of love, risk, and betrayal." —EMMY LAYBOURNE, author of Berserker, Sweet, and the Monument 14 trilogy
"A chilling and thought-provoking look at the power of weaponized emotion." —MELISSA LANDERS, author of the Alienated trilogy
"Both cautionary and hopeful—a rare, literary feat." —GENNIFER ALBIN, New York Times bestselling author of the Crewel World trilogy
"A stormy, spine-tingling ride in which everything remembered and once felt in your life can be used against you." —BLUE BALLIETT, author of Chasing Vermeer
"The Dark Intercept goes straight to the heart of why privacy matters in today's world. Keller has written an accessible coming-of-age adventure where the teenage protagonist comes to understand the consequences of living in a society that monitors everyone's emotions, including her own." —MICHAEL C. ROBINSON, Chair of the American Library Association Intellectual Freedom Committee's Privacy Subcommittee
"Julia Keller writes so viscerally that she takes the readers with her into the worlds she has created. The Intercept is a fascinating springboard which she uses to explore the importance of feelings, and how they affect our lives and choices." —BETSY FRASER, Selector, Calgary Public Library (Alberta, Canada), and 2016 YALSA/ABC-CLIO/Greenwood Service to Young Adults Achievement Award-winner