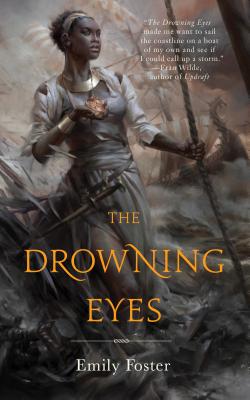 The Drowning Eyes (Paperback)
Tor.com, 9780765387684, 144pp.
Publication Date: January 12, 2016
Other Editions of This Title:
Digital Audiobook (1/11/2016)
* Individual store prices may vary.
Description
When the Dragon Ships began to tear through the trade lanes and ravage coastal towns, the hopes of the archipelago turned to the Windspeakers on Tash. The solemn weather-shapers with their eyes of stone can steal the breeze from raiders' sails and save the islands from their wrath. But the Windspeakers' magic has been stolen, and only their young apprentice Shina can bring their power back and save her people.
Tazir has seen more than her share of storms and pirates in her many years as captain, and she's not much interested in getting involved in the affairs of Windspeakers and Dragon Ships. Shina's caught her eye, but that might not be enough to convince the grizzled sailor to risk her ship, her crew, and her neck.
"The Drowning Eyes is a magic- and wind-filled adventure, peopled with excellent and strong characters. The story made me want to sail the coastline on a boat of my own and see if I could call up a storm. In Emily Foster's debut novella, apprentice Windspeaker Shina must return her people's power to them before the Dragon Ships destroy everything . . . unless Shina destroys it by accident first. So vividly rendered, you'll be tempted to wash the salt-spray from your clothing after reading The Drowning Eyes." - Fran Wilde, author of Updraft
About the Author
Emily Foster graduated from the University of Northern Colorado in 2012 with a bachelor's degree in English. She has written and published a variety of work ranging from abstract poetry to Supreme Court briefs. However, her real passion is for fantasy fiction inspired by the unforgiving landscapes of her home in rural Colorado and the rugged people who live there. She is concerned that if she lists any pets or family members in her biography, it will somehow cause more of them to appear in her home. She is the author of the novella, The Drowning Eyes.