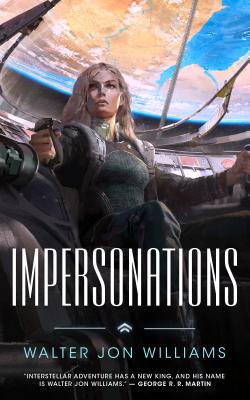 Impersonations (Paperback)
A Story of the Praxis
Tor.com, 9780765387813, 256pp.
Publication Date: October 4, 2016
* Individual store prices may vary.
Description
Nebula Award-winning author Walter Jon Williams returns to the sweeping space opera adventure of his Praxis universe with Impersonations, an exciting new novel featuring the hero of Dread Empire's Fall!
Having offended her superiors by winning a battle without permission, Caroline Sula has been posted to the planet Earth, a dismal backwater where careers go to die. But Sula has always been fascinated by Earth history, and she plans to reward herself with a long, happy vacation amid the ancient monuments of humanity's home world.
Sula may be an Earth history buff, but there are aspects of her own history she doesn't want known. Exposure is threatened when an old acquaintance turns up unexpectedly. Someone seems to be forging evidence that would send her to prison. And all that is before someone tries to kill her.
If she's going to survive, Sula has no choice but to make some history of her own.
Reviews:

"Well told with story plot, well-drawn characters, and excellent wordsmithing...It feels like Williams is having a great time with Impersonations." — Locus
"Readers will savor this intriguing glimpse into the life of a woman who struggles with her own identity and the price of her action." — Publishers Weekly
About the Author
Walter Jon Williams is an award-winning author who has been listed on the bestseller lists of the New York Times and the Times of London. He is the author of more than two dozen novels and collections of short fiction.
His first novel to attract serious public attention was Hardwired (1986), described by Roger Zelazny as a tough, sleek juggernaut of a story, punctuated by strobe-light movements, coursing to the wail of jets and the twang of steel guitars. In 2001 he won a Nebula Award for his novelette, Daddys World, and won again in 2005 for The Green Leopard Plague.
Walters subject matter has an unusually wide range, and include the glittering surfaces of Hardwired, the opulent tapestries of Aristoi, the bleak future police novel Days of Atonement, and the pensive young Mary Shelley of the novella Wall, Stone, Craft, which was nominated for a Hugo, Nebula, and a World Fantasy Award.
He has also written for George R. R. Martin's Wild Cards project.
His book The Fourth Wall, is a near-future thriller set in the world of alternate reality gaming.
Walter has also written for comics, the screen, and for television, and has worked in the gaming field. He was a writer for the alternate reality game Last Call Poker, and has scripted the mega-hit Spore.
Praise For Impersonations: A Story of the Praxis…
"Well told with story plot, well-drawn characters, and excellent wordsmithing...It feels like Williams is having a great time with Impersonations." — Locus
"Readers will savor this intriguing glimpse into the life of a woman who struggles with her own identity and the price of her action." — Publishers Weekly