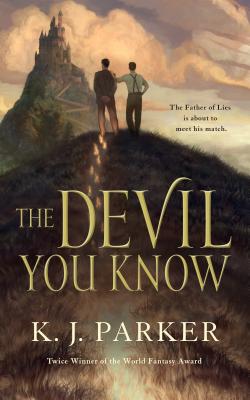 The Devil You Know (Paperback)
Tor.com, 9780765387899, 128pp.
Publication Date: March 1, 2016
* Individual store prices may vary.
Description
The greatest philosopher of all time is offering to sell his soul to the Devil. All he wants is twenty more years to complete his life's work. After that, he really doesn't care.
But the assistant demon assigned to the case has his suspicions, because the philosopher is Saloninus–the greatest philosopher, yes, but also the greatest liar, trickster and cheat the world has yet known; the sort of man even the Father of Lies can't trust.
He's almost certainly up to something; but what?
"Parker generates a fair degree of suspense... an accomplished performance." -- Gary K. Wolfe (for Locus Magazine)
About the Author
Having worked in journalism, numismatics and the law, K J Parker now writes for a precarious living. He is the author of Devices and Desires, Evil for Evil, The Devil You Know, and other books.
K J Parker also writes under the name Tom Holt.
Praise For The Devil You Know…
"Parker cheerfully stays one step ahead of the reader until the last moment." --Publishers Weekly Starred Review