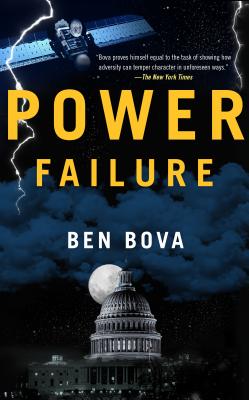 Power Failure (Hardcover)
A Jake Ross Political Thriller (Jake Ross Series #3)
Tor Books, 9780765388032, 368pp.
Publication Date: October 9, 2018
Other Editions of This Title:
MP3 CD (10/9/2018)
Compact Disc (10/9/2018)
Compact Disc (10/9/2018)
* Individual store prices may vary.
Description
Award-winning writer Ben Bova returns with Power Failure, another tense political thriller starring Jake Ross, science advisor to Senator Frank Tomlinson, as they continue their complex power maneuvers in this near future science fiction novel.
Dr. Jake Ross came to Washington to try to make a difference, but he's learned the only way to get something done in Washington, assuming your ideals survive the corrosive atmosphere, is to gather power. Ross has gathered a great deal, riding in the wake of Frank Tomlinson. But now Tomlinson has decided to shoot for the moon. If they win, they get it all. If they lose, the game is over for Jake Ross.
In the Power trilogy, Bova's vision of a future powered by solar satellite transmission is tantalizingly within reach.
Jake Ross Series
#1 Power Play
#2 Power Surge
#3 Power Failure
About the Author
Ben Bova is the author of more than a hundred works of science fact and fiction, including Able One, Leviathans of Jupiter and the Grand Tour novels, including Titan, winner of John W. Campbell Memorial Award for best novel of the year. He received the Lifetime Achievement Award of the Arthur C. Clarke Foundation in 2005, and in 2008 he won the Robert A. Heinlein Award "for his outstanding body of work in the field of literature." He is President Emeritus of the National Space Society and a past president of Science Fiction Writers of America, and a former editor of Analog and former fiction editor of Omni. As an editor, he won science fiction's Hugo Award six times. Dr. Bova's writings have predicted the Space Race of the 1960s, virtual reality, human cloning, the Strategic Defense Initiative (Star Wars), electronic book publishing, and much more. He lives in Florida.
Praise For Power Failure: A Jake Ross Political Thriller (Jake Ross Series #3)…
Praise for Ben Bova
"Bova proves himself equal to the task of showing how adversity can temper character in unforeseen ways." —The New York Times
"Bova gets better and better, combining plausible science with increasingly complex fiction." —Los Angeles Daily News
Praise for Power Play
"Unpredictable at every turn, [Power Play] is sexy, intriguing, and timely." —Booklist

"Power Play features a strong, plot-driven story; snappy dialog; and characters, uncluttered by backstory drama, whose personalities still leap off the page." —Library Journal