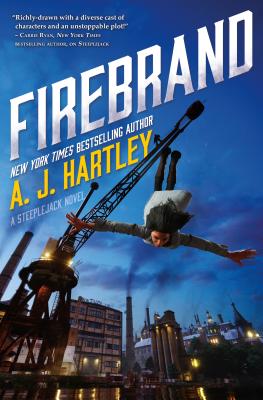 Firebrand (Hardcover)
Book 2 in the Steeplejack series
Tor Teen, 9780765388131, 336pp.
Publication Date: June 6, 2017
Other Editions of This Title:
Paperback (6/26/2018)
MP3 CD (8/29/2017)
* Individual store prices may vary.
Description
In A. J. Hartley's newest Steeplejack adventure Firebrand, a dangerous secret, a murder among nobility, and missing immigrants are all in a day's work for amateur sleuth Anglet Sutonga
Anglet Sutonga is moving up in the world, helping politician Josiah Willinghouse track down a thief who stole plans for a covert government weapon.
Finding him won't be easy, not when the thief has connections to Elitus, the city's most powerful and super-exclusive social club.
When someone gets murdered there, things definitely do not get any easier.
But more is at stake as the city's recent wave of refugees start to vanish. When Ang connects these two cases, they spark a conflagration of conspiracy which threatens to engulf the city whole. Unless she can stop it.

"Richly-drawn with a diverse cast of characters and an unstoppable plot!" – Carrie Ryan, New York Times bestselling author, on Steeplejack
About the Author
British-born writer A. J. Hartley is the bestselling author of a dozen novels including Sekret Machines: Chasing Shadows (co-authored with Tom DeLonge) and the YA fantasy adventure Steeplejack from Tor Teen. As Andrew James Hartley he is also UNC Charlotte's Robinson Distinguished Professor of Shakespeare, specializing in performance theory and practice, and is the author of various scholarly books and articles from the world's best academic publishers including Palgrave and Cambridge University Press. He is an honorary fellow of the University of Central Lancashire, UK. As well as being a novelist and academic, he is a screenwriter, theatre director, and dramaturge. He is married, with a son, and lives in Charlotte.
Praise For Firebrand: Book 2 in the Steeplejack series…
"Hartley creates a world so analogous to our own it hardly seems like a fantasy....Anglet has blossomed in this sequel, releasing her previously restrained sharp tongue and expanding her emotional range. Even as she learns to put on a neutral face to be a more effective spy, her empathy for those who are suffering and her relentless search for the truth are her most laudable attributes. Readers who come for the tightly plotted mystery will stay for the heroine who does all she can to resist." — Kirkus Reviews, starred review
"The well-crafted adventures of this feisty, diverse protagonist continue in this worthy sequel to Steeplejack (2016), evoking Sherlock Holmes with its Victorian-esque setting, and James Bond in its espionage-laced plot. Hartley has composed another electrifying fantasy that buzzes with intrigue and timely political and social issues, making this a must-have addition to any collection." — Booklist, starred review

"Expertly written, never preaching or pointing fingers, but subtly applying pressure to examine race issues, gender inequalities, microaggressions, and socio-economic problems in our culture…. Teens will see themselves in the tough, realistic, and fierce yet vulnerable protagonist. The multicultural worldbuilding will draw in readers of many ages and backgrounds, while the well-crafted mystery and action will keep them wanting more….A delightful follow-up to the explosive first novel from an established author who clearly knows his craft." —VOYA
"Hartley's story succeeds in building a detailed world of both familiar (charging hippos) and unfamiliar (a precious mineral, luxorite, used by the rich) elements while also tackling a wide range of complicated social issues....Most impressive is the genre-blending; the author adeptly merges a political thriller with action, adventure, and mystery. Will have strong appeal to a wide range of readers, particularly those looking for complex novels that reflect a diverse world."—School Library Journal
Praise for A. J. Hartley's Steeplejack:
"A richly realized world, an intensely likable character, and a mystery to die for." —Cory Doctorow, New York Times-bestselling author
"A thought-provoking blend of action and intrigue, with a competent and ethical heroine in Ang and a fully imagined setting whose atmosphere and cultural cues also play important roles. The result is an unforgettable page-turner built on surprises and full of potential."– Publishers Weekly, starred review
"Skillful writing, masterful pacing, and a capable and quite likable female detective are just a few of the things to love about this fantasy-adventure....In addition to the detective angle, Hartley thoughtfully explores issues such as race relations, both inter- and intra-racial, as Anglet deals with the censure of her own community, and class issues, as she attempts to work outside the political system to solve the murder. This one won't stay on the shelf for long." — Booklist, starred review
"Smart political intrigue wrapped in all the twists and turns of a good detective story makes for a rip-roaring series opener." — Kirkus Reviews, starred review
"A city in crisis, breathtaking rooftop chases, harrowing assaults, blood oaths, love and loyalty, brutal betrayals and impressive detective work by the intelligent, intuitive Ang unfold in a fascinating, vividly described setting that includes smog and slums, gas lamps and opera houses, baboons and bush babies. A political, multilayered mystery-thriller with a strong, impressively fierce heroine." — Shelf Awareness, starred review
"Steeplejack is quietly thoughtful and breathlessly exciting, and with two more series installments to follow, Ang's personal and professional journey is far from over." —BookPage, Teen Top Pick
"With its unique South African-inspired setting, richly-drawn and diverse cast of characters, and unstoppable plot, readers of any age won't be able to put Steeplejack down!" —Carrie Ryan, New York Times bestselling author
"With Steeplejack, A.J. Hartley introduces a dynamic, complex and likeable new heroine who combines wits, skill and courage to face deadly challenges in an exotic world. Teens and adults will love this book and want more, more, more!" —Jonathan Maberry, New York Times bestselling author of Rot & Ruin and The Orphan Army.

"A.J. Hartley has created an exquisite, explosive, nail-biting, tear-rousing masterpiece, in a world so realistic it might be right around the corner." —Faith Hunter, New York Times bestselling author

"What a world Hartley has created! Enough twists and surprises to keep the pages turning long into the night." —R.L. Stine
"A unique epic adventure set in a richly imagined world; lush, exotic and masterfully written. It's Sherlock Holmes, Oliver Twist, and Indiana Jones rolled into one." —Lissa Price, internationally bestselling author of Starters and Enders
"Smart and socially-aware, this fabulous debut adds to the growing library of multicultural fantasy and is a loudly resounding success." —Nisi Shawl, Tiptree Award-winning author of Everfair
"With Steeplejack, A.J. Hartley creates a world as complex as its heroine, and a mystery that spans class, race and geography. You can feel the grit and glory of Bar-Selehm, a many-spired city teetering on the edge of the savannah, and the verge of war. The perfect setting for a street-smart young woman who is caught between three cultures, yet refuses to be trapped by them." —Sherri L. Smith, award-winning author of Flygirls and Orleans
"Hartley has created a world so gritty and real I could taste the soot." —Maurice Broaddus, author of the Knights of Breton Court trilogy
"Steeplejack combines a lively and intelligent plot with an intriguing and well-drawn world, and caps all this goodness with a determined and indefatigable heroine." —Kate Elliott, author of Court of Fives and Black Wolves

"A rich, atmospheric tale of adventure, morality and consequence, Steeplejack will linger with you long after you read the last page." —Kady Cross, author of the Steampunk Chronicles and Sisters of Blood and Spirit series

"Elegant prose, a cracking good mystery, lots of action, and characters to fall in love with and root for. I read it cover to cover in no time at all. In fact, I did so twice! And I was on the edge of my seat both times." —D.B. Jackson, author of the Thief Taker series
"I was completely hooked from page one. Ang is a hero to cheer for heart and soul. A thrilling, clever, meaningful read." —Leanna Renee Hieber, award-winning author of Strangely Beautiful and The Eterna Files

"An exquisitely built mystery set in a lush, vibrant world. I was loath to leave Ang and Bar-Selehm behind at the end of it. Definitely a book to be revisited again and again." —Kat Zhang, author of What's Left of Me