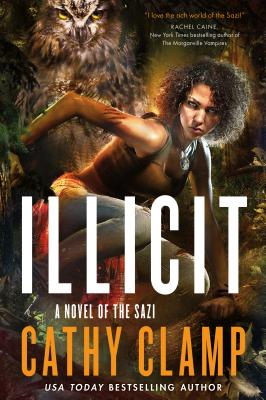 Illicit (Hardcover)
A Novel of the Sazi (Luna Lake #2)
Tor Books, 9780765388315, 304pp.
Publication Date: November 1, 2016
Other Editions of This Title:
Mass Market (4/1/2035)
Paperback (11/1/2016)
* Individual store prices may vary.
Description
In Cathy Clamp's Illicit, when a border dispute between two bear clans destabilizes shapeshifter relations throughout Europe and threatens to reveal their existence to humans, the Sazi High Council orders both sides to the negotiation table. The peace talks take place in Luna Lake, the American community where all shifter species--wolf, cat, bird, bear, and more--live in harmony.
Diplomats, their families, and security personnel stream into town, among them Dalvin Adway, a Wolven agent. Dalvin is startled to find Rachel Washington in Luna Lake. The last time he saw her, they were children in Detroit. Then she was kidnapped and, he thought, murdered. But Rachel became an owl-shifter as a result of the attack and has avoided family and old friends ever since, knowing they would not understand her . She's stunned to see Dalvin and learn that he, too, is an owl-shifter.
Their wary friendship is on the brink of becoming something more when conspiracy and betrayal cause the peace talks to break down. The fight between the bear clans will be settled through a form of traditional challenge--a risky tactic that might lead to full-blown war. Rachel is determined to prevent that, even if it means taking up the challenge herself!
About the Author
Cathy Clamp is a bestselling author of urban fantasy and paranormal romance. Her books include Forbidden, the first in the Luna Lake series; Hunter's Moon, a USA Today bestseller; and other Tales of the Sazi. She is the co-author, with C. T. Adams, of the Thrall series-the first volume, Touch of Evil, was also a USA Today bestseller-and of the first six books in the Blood Singer series, which was published under the Cat Adams pseudonym. The first volume in that series is Blood Song. Cathy Clamp resides in the Texas Hill Country with her husband, their dogs and cats, and their 24 Boer/Spanish cross goats.